My challenge for today is to find the best free WordPress themes for blogs. With my blog growing I feel it's time to look at a new theme!
I wrote my current theme myself, but with my time now taken up with blogging, I don't have the time to tinker with it. So, I have looked around for something off the shelf which is lightweight but also capable of the customisations that I need.
There are three themes on the table, OceanWP, Astra, and GeneratePress.
I have looked at all three for suitability for the primary use of blogging and tried them all out for size. They are all free, offering premium upgrades for more functionality.
I previously ruled out page builder themes like DIVI and Theme X because in my view, although they are very flexible, they often sacrifice efficiency, and of course, they are not free.
Free themes often have limited customisation options, but I think these themes are exceptions. They all make full use of the WordPress Customiser so you can watch your changes take effect immediately. You can add further customisations with a page builder plugin, and each of these themes offers compatibility with the popular ones, including SiteOrigin, Elementor and Beaver Builder. To make my shortlist, each of the themes had to conform to the following:

Well-coded, for example, not loading style and script files when not required.
Great page load time, my homemade theme had great load time, so I have a high bar for this.
Good for SEO
Responsive
Works well for a blog style website
Current and actively supported
Free!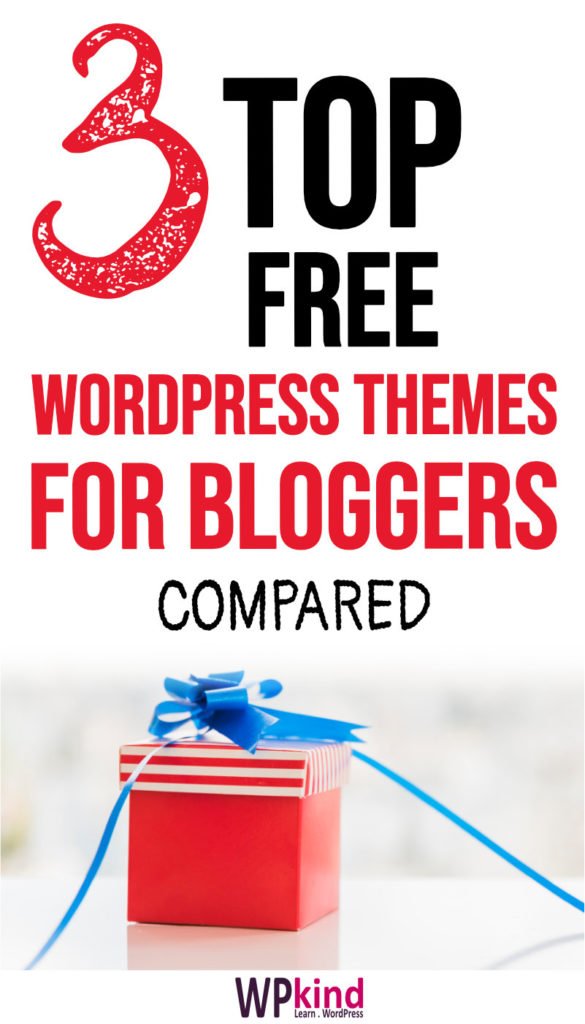 OceanWP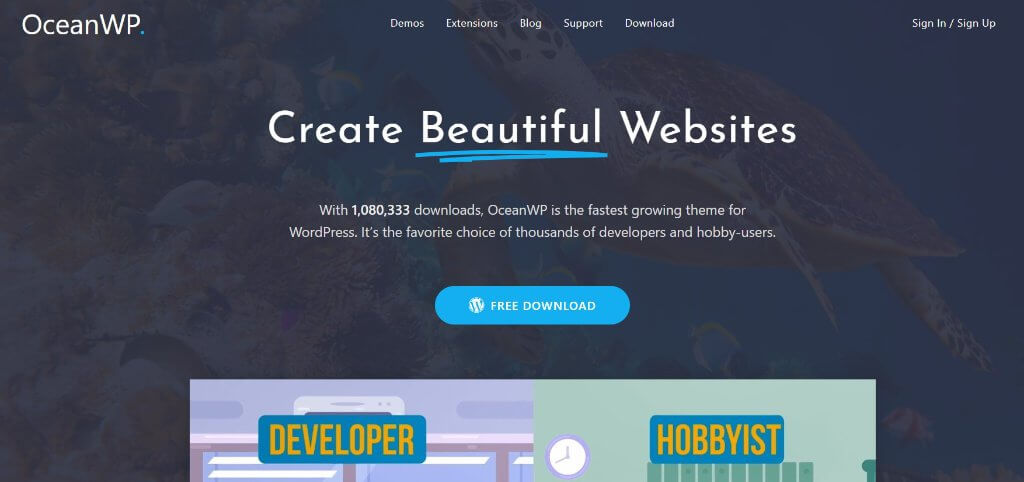 OceanWP WordPress theme is lightweight and responsive and has deep integration with WooCommerce out of the box. It has 300K plus activations and many 5-star reviews.
What you get for free
OceanWP offers a vast number of customisations for every aspect of your site including, Google fonts, colours, header, footer, sidebar, menus, buttons and forms.
The design options for blog posts and articles in OceanWP is extensive with far more options available than even the premium version of GeneratePress. You can select what blog post elements to include and the order, for example putting the post title above or below the featured image.
For featured images, you can select from standard image sizes, but there is no option to set custom dimensions as there is in GeneratePress. You can show your archives in a grid with the option for masonry style and infinite scroll.
WooCommerce support is comprehensive, with options for product page and archive layouts and displaying the link and summary on the menu. There is also a mega menu option which is useful if you need more than a simple drop-down menu. The free extensions include social sharing buttons and custom sidebars.
What you get in the premium version
The premium bundle for $39 per year for one site offers a sticky header module, Instagram feed and white label to name a few. In addition to the free demo templates, the premium bundle also gives you access to 21 pro demos. There is also an option to purchase premium support separately at $29 for three months.
How does it perform?
Ocean WP boasts having the fastest page load time in many top speed testing tools, and yes, I found that it does load fast. It offers the option to put all styling customisations in an external CSS file rather than embedded within the webpage, which is more efficient as it allows browsers to cache.
However, looking at the size of the unzipped CSS and JS files at 152Kb and 121Kb respectively, it is considerably bigger overall than GeneratePress at about 35Kb in total. OceanWP also requires the jQuery library which is another 93Kb on top, so there is probably room for some improvement.
Final thoughts
This theme should grow with your blog. Perhaps you do not use many of the options to start with, but the fact that they are available for the future means you don't have to go through the pain of retheming later on.
There are so many free options available that you may not need to buy the premium extensions unless you need access to the pro demos. If you feel daunted by what is on offer, a great way to kick start your design is with a pre-made demo of which there are many to choose from.
Astra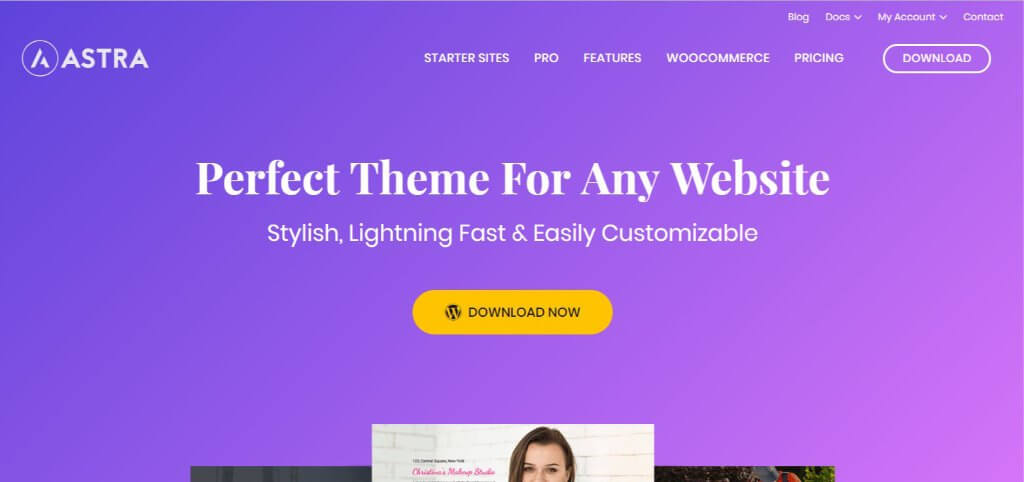 Astra is another free WordPress theme with great customisation options.
What you get for free
Astra WordPress theme is very similar in functionality to OceanWP, but a lot less is available in the free version most notably the options for blog archives and posts which is very limited in comparison.
You can change the blog post structure but, you must buy the pro version for changing anything else such as setting archives to display as a grid. The same goes for the mega menu option which is only available in pro, though as a blogger this isn't a such a limitation.
There is a free accompanying plugin called Astra Starter Sites, which allows you to install complete premade sites that work with Elementor, Beaver Builder, Brizy or Gutenberg page builders, but not all of them are free. There are only a few starter sites available for blogs, but I would think you could use any template and adapt it for a blog.
What you get in the premium version
The pro version for $59, can be used on unlimited sites, which of course may not be an advantage if you only have one blog site. There is a lot on offer in the premium version including more options for blog post layouts, better colour and typography control, more header and footer layouts, and you get support.
How does it perform?
Astra's core unzipped CSS file is 94Kb, and the JS file is 9Kb which is small, added to that it doesn't require the JQuery library, making for a very lightweight theme. However, many of the extensions do require the library, and since you probably need to buy the premium version for the better blog layouts, it is not such an advantage. There is no option to put styling customisations in an external CSS file like there is in OceanWP.
Final thoughts
Astra is a high performing theme, its functionality compares very well with OceanWP, but only once you have purchased the pro version.
GeneratePress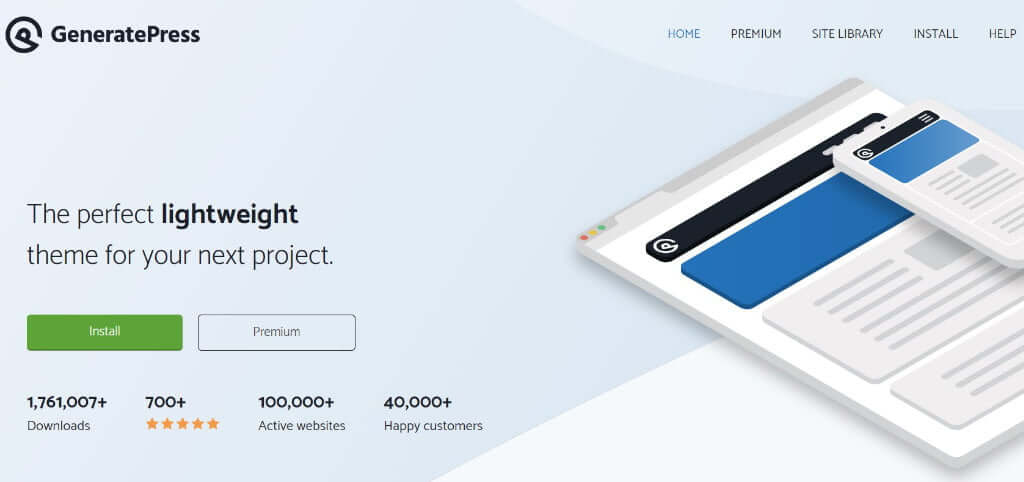 GeneratePress is a popular WordPress theme with 100K+ active installations and first-class feedback. Based on the starter theme Underscores by WordPress, it has an excellent heritage.
What you get for free
The customisations available are as vast as the other two themes, i.e. you can modify colours, fonts, layout, headers and footer.
There are fewer customisations available in the free version than in the free version of OceanWP. For example, you would need to buy the pro version to change your blog archives to a grid which OceanWP offers for free.
You also need the pro version to use Google fonts, for greater menu customisation and for WooCommerce integration, something that OceanWP also offers free.
If you had the time and wanted to get your hands dirty, you could do the customisations yourself, often with a bit of CSS. However, the price of the premium version is very competitive at $49.95 for unlimited site installs, it won't break the bank, and with the time you save tinkering, I believe it is well worth an investment
What you get in the premium version
The pro version takes the form of a modular plugin allowing you to activate only the modules that are required, which cuts down on overhead and makes for a faster loading site.
Amongst the modules offered, there is an extensive typology module allowing you to use Google fonts and to select the font size and weight for every type of element on your site.
The colours module allows you to manage the colour of every element on your site. The blog module, allows you to style articles and archives, although there is no option to change the order of elements. There is also a Woocommerce module.
The pro version also offers 50 professional looking ready-made sites to install. With a few clicks, you can have a full demo site plus optional content giving you a head start on any project. Some of the demos require other plugins such as page builders and Tom's excellent WP Show Posts.
One aspect of the premium offering that I think is invaluable is the 'Elements' module, which allows you to customise just about anything, including adding a special header to specific pages and adding code to a theme hook, such as 'wp_head', where you might add your google analytics tracking code.
You can also specify default layouts for one or more pages.
If you need help, the developer, Tom Usbourne is quick to respond, as I found out when I had cause to ask a question. Tom is very passionate about his theme, and the quality of support is excellent, even giving out help achieving theme tweaks that are available to buy in the pro version. The documentation is very comprehensive too.
How does it perform?
I was staggered to find that the theme files are only 15K when gzipped. When I look at the code, it is very lean. You would hardly believe it is as powerful as it is. Like the Astra theme, it does not require jQuery for the free version. I also take comfort knowing that security is of great importance. I understand that the developer had a security expert review the code.
Final thoughts
GeneratePress is an extremely lightweight and tightly coded theme. With the pro version, you can customise almost anything to the extent that you wouldn't need to create a child theme, which is perfect for non-coders.
Conclusion
After reviewing the themes and trying them all out. I finally chose GeneratePress.
Astra and OceanWP offer more free functionality than GeneratePress. However, I am more impressed by the performance and the beautiful code by Tom. I like the fact that it grew from the WordPress starter theme, Underscores.
As a developer myself, I fully appreciated how great the code was when I went to make a theme tweak, which I achieved in minutes due to the clean and well-documented code.
The pro price of $49.95 per year for unlimited installs is a steal.
The OceanWP and Astra are fantastic themes too. OceanWP is very strong on WooCommerce compatibility, and Astra works very well with page builders. Their performance is outstanding too. As they are both young themes, I expect more great things to come. In the meantime, I am going to get busy re-theming my site with GeneratePress!
I have a full review of GeneratePress here – GeneratePress Review – The Best Theme In WordPress History.