In today's post, I review the Convertkit email app. Convertkit is an email service provider (ESP) created by Nathan Barry. It's relatively new to the market.
ConvertKit is aimed squarely at bloggers, with all the features that bloggers would need without the complications, that older ESPs could perhaps be guilty of.
In a nutshell, Convertkit helps you to maintain a list of emails, create newsletters, and send emails. You can also make use of automation and segmentation to send emails to those people who are most interested.
As its name suggests, Convertkit provides the tools you need to convert website visitors into subscribers and subscribers into paying customers.
What is email marketing, and why do I need it?
Before I begin this ConvertKit review, let's be sure what email marketing is, and why you need it for your blogging business.
In essence, email marketing is the act of using emails to market products and services.
thebalancesmb.com takes it further to say that email is a means to develop relationships with potential customers.
In its most basic sense, email marketing is the use of email to promote products or services. But a better email marketing definition is the use of email to develop relationships with potential customers or clients. Email marketing is one segment of internet marketing, which encompasses online marketing via websites, social media, blogs, and more. It is essentially direct mail done electronically instead of through the postal service.

thebalancesmb.com
So why do you need email marketing for your blogging business?
Just like any other brick and mortar business, marketing is vital for providing leads and ultimately, sales. It's a way of turning window shoppers into potential clients.
When your window shoppers (aka website visitors) come to your site, you want them to become potential customers, and to do that you need to contact them.
There are several ways to get customers to leave their contact details with you:
A form inside a blog post
A landing page with a sign-up form
A popup
The promise of a freebie
Let's look at how ConvertKit fulfils those needs.
What are the features of ConvertKit?
ConvertKit's Email designer
ConvertKit has minimal email templates to choose from, and all of them are very simple.
The company takes the view that fancy email layouts don't work, and I agree with that. If you are comfortable with coding in HTML and CSS, you could code something more elaborate, but I know from the ConverKit emails I receive, most people stick to a plain text-only template.
When it comes to writing your email (which ConvertKit calls 'broadcasts'), you will find that the editing tool is very simple and straightforward to use.
ConvertKit has recently updated its editor, and it is now similar to Gutenberg in that you can choose blocks to add. It's not 'drag and drop', and you can't rearrange blocks like you can in WordPress, but it is still very simple to use, and you can switch back to the old editor if you prefer.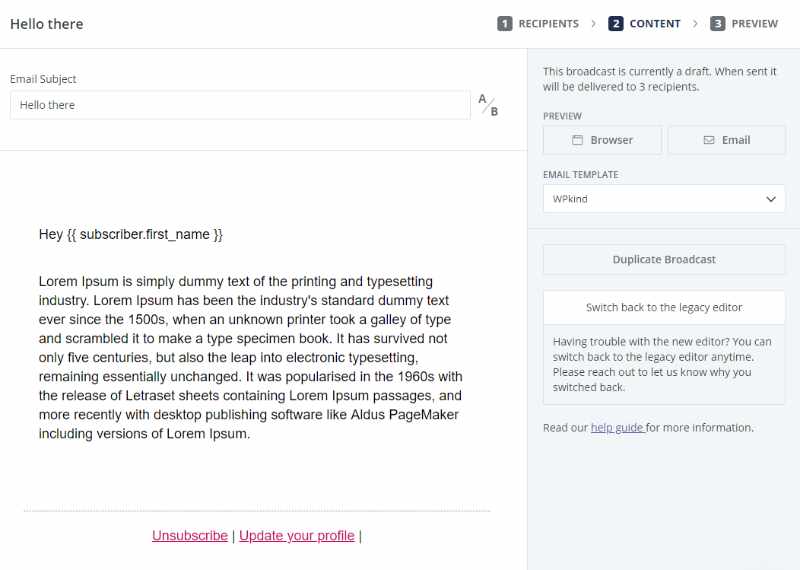 There is a very neat feature for subject lines whereby you can a/b test them as the email sends to help improve your open rates. During the campaign, ConvertKit will pick a winner and continue with that one.
ConvertKit's landing pages
The ability to create landing pages within the ConvertKit is a handy feature. There are plenty of premade templates to choose from for a selection of use cases. For example, there are templates for signing up to a product download, webinar, waitlist, and your main sign-up page.
You can have these pages come up in WordPress with your domain using the ConvertKit plugin for WordPress.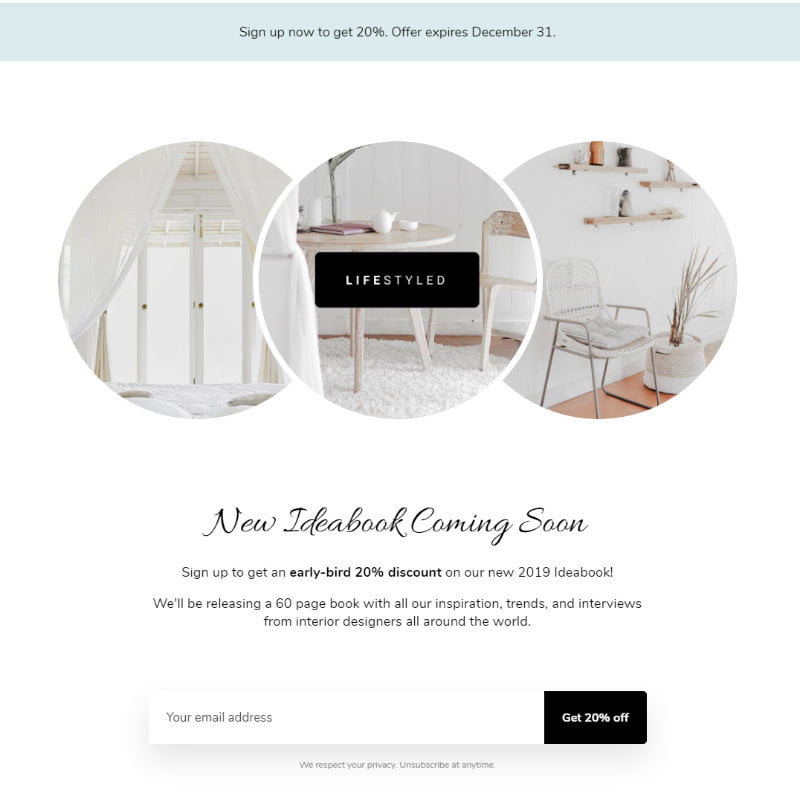 ConvertKit's opt-in forms
ConvertKit allows you to create several types of opt-in form, including inline, modal (popup), slide-in, and sticky bar.
For each type of form, you can choose a template which you can then modify to a certain extent. The form designer allows you to change the text, colours, background and image if the template has one.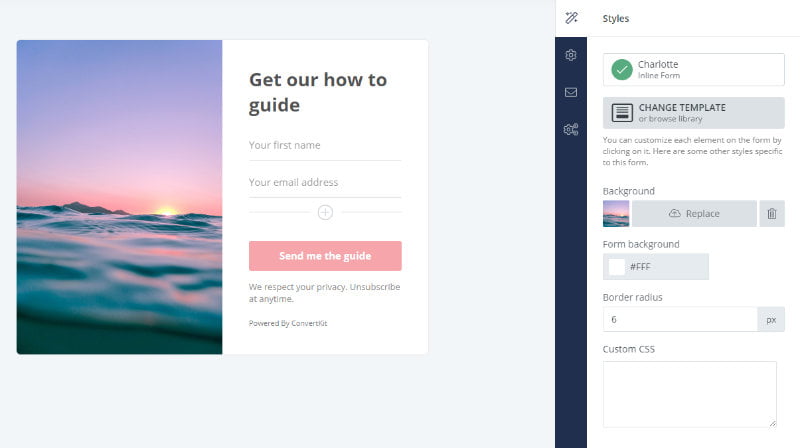 You can use a form to deliver a lead magnet such as a checklist, or printable. When your customer downloads the lead magnet, it serves as confirmation that they actually want to be on your list and that they are a real person. ConvertKit calls it an 'incentive email', and it is a great way to confirm your subscribers rather than have them click a link, which often doesn't happen.
When you have finished designing your form you can embed the code directly into your website, such on your sidebar or your sign-up page.
However, the best and easiest way to embed forms in WordPress is with ConvertKit's dedicated WordPress plugin. When installed, you can connect to your ConvertKit account using an API key. ConvertKit provides a widget that you can place in any widget enabled part of your website such as a sidebar or footer. You can also use a shortcode to embed a form anywhere in a post or page.
ConvertKit's segmentation & tagging
ConvertKit is one of the few email service providers that gives you just one list. This means that there is no danger of being charged twice for the same subscriber on two different lists.
It may seem unwieldy to have only one list, but ConvertKit allows you to carefully group your subscribers with 'tags'.
Tags are a big deal in ConvertKit. You can have up to 100 tags. You could tag a subscriber based on links they have clicked in your newsletters, posts they have visited, and products they have bought to name a few.
Tags can be applied automatically when people click links or open emails, or you can add them manually.
Segmentation in ConvertKit is a way of grouping the tags. For example, on this blog, I have some posts about speeding up your blog. When a subscriber clicks through from an email to a blog post about speed, I might tag them as interested in that, so later I could send emails that are helpful in that area. I might also have a tag for people who click on my blog speed service. I could then create a segment comprising all those tags and call it 'blog speed'.
ConvertKit's Automation
Automation in email marketing is the act of sending an email based on a user action, such as signing up through a form, clicking a link, or purchasing a product. After the initial automation trigger, you can build a series of emails from there.
Here is what ConvertKit has to say about automation:
Never worry about your subscriber's journey again. With visual automation, you can build custom paths for your funnels by connecting events, actions, and conditions. When joined together, these elements create your subscriber's journey in one easy-to-understand and totally customizable process.

ConvertKit
Notice that they describe their automation as 'visual'? Well, that is exactly what it is. ConvertKit allows you to build a flow chart of emails that trigger depending on user interaction. Here we have automation based on a question.
ConvertKit's email sequences
If you don't need fancy automation, then you can use a sequence instead. Sequences are linear emails sent one after the other. You might use a sequence to deliver an email course with one email going out each day.
The interface for creating sequences is very straightforward, exactly what you would expect by now from ConvertKit.
ConvertKit's reporting and statistics
ConvertKit allows you to see at a glance just how many emails were opened and clicked, along with a graph.
Click on a subscriber, and you can see what emails they have received from you, and how many they opened and clicked.
What ConvertKit does not do
My reviews are always honest, so I should point out the negatives on the ConvertKit app too.
Here are three gripes that I have. I would love it if ConvertKit would fix all of these, they are all doable because other ESPs already provide them.
ConvertKit does not work well with Grammarly
I use Grammarly for all my writing, so this is a nuisance for me. The workaround is to write your email in the Grammarly app and then paste it into ConvertKit's editor. You could also write your email in Microsoft Word if you prefer.
ConvertKit does not allow you to edit the HTML within emails
Unless you switch back to the legacy editor, you can't edit the HTML of your email directly. If you don't know HTML and CSS or have any intention of learning it, then this is probably not an issue for you. But, if you like to fine-tune your emails with a little extra CSS, it could be a hindrance.
ConvertKit does not track every website visit
Unlike ActiveCampaign, SendinBlue, and Moosend, to name a few, ConvertKit does not provide a tracking script for your website.
Tracking scripts allow you to get to know the behaviours of your subscribers before they make themselves known to you by signing up.
ConvertKit allows you to add tags to subscribers who visit pages on your site. The problem is that any activity that occurred before you added the tag would be missed.
*Update*
I approached ConvertKit on the above issues, and this is what they said:
Our team is working a lot to improve our app, while some of those features are not available, we do have a place for them to submit it as a feature request here in our community. Where our team reviews all customer requests on a regular basis. However, we can't guarantee that all those requests will be added, I can promise we take them all seriously, and we very much appreciate their feedback

ConvertKit
Hopefully, they will take my suggestions seriously, and we will see them all added soon.
ConvertKit Deliverability
Deliverability in ESPs is subjective depending on several factors, including whether you have authenticated your sending domain, the quality of your email list, and how engaged your readers are.
ConvertKit achieved a 60% deliverability score from EmailToolTester when pitched against other most popular ESPs. This is a little disappointing, but hopefully can be improved in the future.
ConvertKit Pricing
ConvertKit's pricing is very straightforward. There is one subscription level for all features. The price increases along with your subscribers, starting at $29 for up to 1,000 subscribers. On every plan, you can send as many emails as you wish.
ConvertKit recently added a free tier for up to 1,000 subscribers. You get all features of the pro plan apart from automation and sequences.
If you just want to keep a small list and only need to send out newsletters, the free tier could be a perfect way to get to know the app. You wouldn't be able to create a welcome sequence or a sales funnel with the free plan. For that, you would need to buy the complete service starting at $29.
ConvertKit integrations
How an email app integrates with other software is an essential element of any email service provider.
If you have products or services to sell, you need your chosen email app to work with it so that you can send out the right communications to the right people.
For example, you wouldn't want to send out a sales email to people who have already bought your product. You need a way of automatically tagging people who have already made a purchase.
Let's have a look at what we can do with ConvertKit when combined with other apps.
ConvertKit and WordPress
ConvertKit comes with a free WordPress plugin that allows you to integrate forms that you create in the ConvertKit app with your website. Using the plugin, you can add sign-up forms to the bottom of posts and add tags to subscribers as they visit pages on your website. If you have created a landing page in ConvertKit, you can set it to display on the page that you set.
ConvertKit and Woocommerce
If you are an eCommerce user and have the Woocommerce plugin installed on your WordPress website, you will be glad to know that ConvertKit now has a plugin to help you connect your customers with your email app.
The ConvertKit plugin for Woocommerce allows you to add a sign-up checkbox to the checkout form, and tag customers or trigger an email sequence or automation when they make a purchase.
ConvertKit and Shopify
If you are a Shopify user, then you are in luck because you can connect to Shopify within the ConvertKit app and then create a visual automation sequence triggered when people buy your product. After purchase, you can trigger a thank you email or an automation series and give them a tag.
ConvertKit and Lead Pages
ConvertKit has its own landing page builder, but if you need more, Leadpages is the perfect partner for ConvertKit. You can now connect to ConvertKit directly from Leadpages using the ConvertKit API.
ConvertKit and Teachable
If you sell courses on Teachable, you can connect your Teachable account with ConvertKit, that way, when a new student enrols in your class you can add them as a subscriber. Connect your ConvertKit account within the Teachable settings, and then you can create an automated email series.
ConvertKit and Zoom
Using Zapier, you could set up a 'zap' to connect your Zoom account with ConvertKit. You could then tag your subscriber to indicate they connected with you in that way, or add them as a new subscriber.
ConvertKit and Zapier
Using Zapier, you can connect ConvertKit to hundreds of other apps. For example, you could update a Google spreadsheet with your new subscribers, or add new Teachable students to a ConvertKit sequence. Or, you could add a tag to a subscriber when they join you on a Zoom call. The list is endless.
WordPress Plugins that work well with ConvertKit
ConvertKit's WordPress plugin
ConvertKit has published its own WordPress plugin which allows you to place forms you have created within the ConvertKit app in your website. The functionality includes the following:
Specify a default form to appear at the bottom of all your blog posts. The default form can be overridden on individual pages.
You can use the supplied shortcode to place forms anywhere on your website.
You can replace pages on your site with a landing page you created in the ConvertKit app.
Using the ConverKit widget you could add a sign-up form to any widget enabled area of your site, for example, the sidebar or footer.
You can select the tag that will be added to your subscriber when they visit a particular post or page on your blog.
Elementor Page Builder WordPress plugin
Elementor Pro allows you to create forms and popups that can appear anywhere on your blog. Once you add your ConvertKit API key, you can select which ConvertKit form the sign-up details will be sent to.
ConvertPro
ConvertPro is the best lead generation tool I have come across. It has a fantastic visual designer that you can use to create almost anything you should want very easily. It also works with a multitude of different email services, including ConvertKit.
MailOptin
MailOptin allows you to create opt-in forms, popups, inline opt-ins and much more. You can connect your ConvertKit account using your API key and then send sign-up details straight to ConvertKit.
Thrive leads
If you are a Thrive Leads user, then you are in luck because Thrive now integrates with ConvertKit. As with MailOptin, all you need to do is set up an integration with ConvertKit by entering your API, and you can begin creating sign-up forms.
Frequently Asked Questions
Is ConvertKit a CRM?
No, ConvertKit has been created from the ground up specifically for professional bloggers. ConvertKit allows you to define your customers with the tagging system, but it won't remind you to follow up on a telephone call.
Is ConvertKit free?
ConvertKit isn't free, the entry price for up to 1,000 subscribers is $29 per month (less if you pay yearly). Recently they launched a free-tier for up to 1,000 subscribers which includes all features of the paid plans apart from automation.
Can I use a custom domain with ConvertKit?
Yes, you can send your emails from a custom domain, which is actually the preferred way to send email as it is less likely to end up in the spam folder. ConvertKit discourages you from using a free email address like Gmail for the same reason.
You can also use a custom domain for landing pages.
Does ConvertKit work with ClickFunnels?
Yes, ConvertKit has a native integration with ClickFunnels. Use ConvertKit to collect email sign-ups when you create your sales funnel.
Can ConvertKit subscribers be exported?
Yes, you can easily export all your subscribers and have them emailed directly to you in a file that you can open in a spreadsheet app.
Does ConvertKit have a WordPress plugin?
Yes, ConvertKit has a WordPress plugin created by the ConvertKit team that allows you to integrate your WordPress website with ConvertKit perfectly.
How can I get training for ConvertKit?
Yes, ConvertKit has some instructional videos as part of their onboarding process. They also host free training webinars check them out here.
Does ConverKit work with Wix?
There is no native integration with Wix, but you can add the HTML of your ConvertKit form directly into Wix. See here for more details.
Does ConverKit work with Squarespace?
As for Wix, there is no native integration like there is for WordPress. However you can add forms to Squarespace by pasting in your ConvertKit form into a code block on Squarespace. See here for more details.
Is ConvertKit better than Mailchimp?
Good question! ConvertKit has been created from the ground up specifically for professional bloggers. Back when Mailchimp was born, blogging wasn't such a thing. If you are a blogger, then yes, I believe ConvertKit is the better choice.
Can I embed videos in ConvertKit emails?
Not as such. It isn't possible to do this in any email app in fact, because emails don't play videos natively. The best thing to do is to create a clickable image that links to the video.
Does ConvertKit have a mobile app?
No, ConvertKit does not have a mobile app at this time.
Can I make popups with ConvertKit?
Yes, you can make popups with ConvertKit and have them display on your website using an embedded code, a WordPress shortcode, or the ConvertKit plugin for WordPress.
Final thoughts for this ConvertKit review
ConvertKit has a single customer type in mind, bloggers. It has done an excellent job at providing exactly what a blogger would need without clouding them with extra features that you would find in more mature email apps.
The email editor and the automation builder is very simple to use, and their system of using tags instead of multiple lists makes a lot of sense.
The integrations you can create with ConvertKit are vast, and it enables you to create an excellent understanding of all your subscribers, so you need only send emails to people who you know will be interested.