I had been a long time user of the Wordfence security plugin until I discovered a free and light plugin called Malcare.
Malcare is the new kid on the block for WordPress security. There may be many security plugins available but Malcare does things differently.
Instead of weighing your website down with server hungry scans, Malcare opts to scan your website on their own servers rather than yours. This means there is no effect on your website's speed. Your website can be completely protected from malware and bots without being weighed down.
What's more, is that Malcare is free to use. Yes, you can have more features if you upgrade, but you can get all the features you need for a secure site for free.
Since discovering this amazing plugin, I now have Malcare installed on every site I manage. None of those sites have had issues with response times, and thankfully none of them have been hacked!
Five things should know about Malcare
#1 Super easy to install and set up
Usually, I have a tutorial on how to install and setup the plugin I'm reviewing, but for Malcare you install it and there is no setup.
Malcare immediately starts protecting your website the minute you activate it. There are NO settings to make. I love that the developers don't expect us to have the time to understand or be interested in making optimal settings, they just do it for you. So refreshing!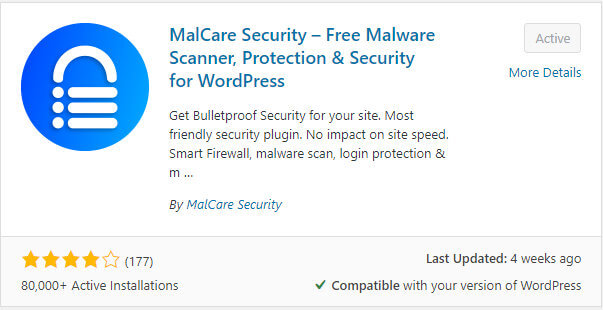 #2 Will not slow down your website
Malcare does all the scanning offsite so that your site can remain fast and lean.
Without making tweaks (if you know what you are doing) Wordfence can slow your website down considerably.
#3 Protection from people guessing your login
It is usually bots rather than actual people that try to log in and guess your password. Malcare protects you from that and blocks those people/bots if they try and fail too many times.
Even though Malcare protects you, it is still essential to have a long and strong password with a mixture of letters, numbers and symbols. You should never use dictionary words in your password.
#4 Protection from bad plugins (malware)
WordPress on its own is pretty secure, but there are thousands of plugins in circulation, and they don't all have secure code.
Insecurities are usually the result of developer error. Sadly though, a minority of developers purposely add malware. Malcare protects you from this threat.
If you pay for the premium version, then you can have Malcare clean up your site automatically should it find any issues.
#5 It is set and forget
I love these types of plugins. Install it and all you need to worry about is keeping it updated. I recommend you set the plugin to auto-update so that the plugin is always kept updated.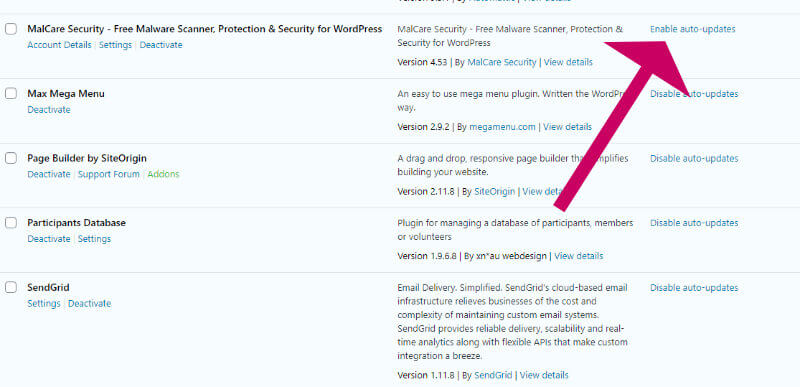 When you have the plugin installed you can keep an eye on what it is doing from the dashboard.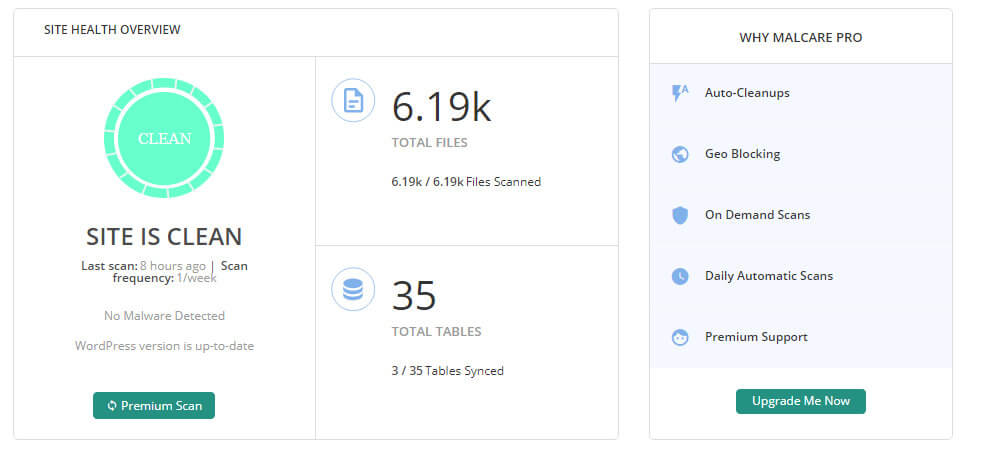 How to install Malcare on your blog
Go to Plugins->Add new
Search for Malcare and the plugin should appear at the top of the list
Click Install and then click Activate when it appears.
Your website is then immediately protected. You can find the dashboard under Malcare in the WordPress admin menu.
What you get in Malcare Pro
You can get everything you need to keep your site secure in the free version, but there are some pro features to whet your appetite too.
Here is what you get in the pro version of Malcare:
Geo-blocking. You can choose to block entire countries from accessing your website.
Automatic and unlimited cleanups. Malcare will automatically clean your site should it find malware.
Premium support via email and chat.
Daily and on-demand scans instead of weekly scans.
Wrapping up
If you have Wordfence on your blog and find it is slowing it down, or you just can't get your head around all the settings, I recommend you remove it right-away and install Malcare instead. You won't regret it.