In today's post, I reveal the plugin I have been using for the past three months for getting rid of spam comments, spam contact form submissions and newsletter opt-in forms.
Previously I dealt with this kind of spam by adding ReCaptcha. A ReCaptcha is that annoying box you often have to fill in asking you to identify a lampost or some traffic lights.
Besides being annoying, Recaptchas also slows down your webpages a lot, and it's not just the page that has ReCaptcha that gets slower, it affects every single post and page.
When I realised how slow my blog had become due to using a ReCaptcha, I set about searching for an alternative.
Fortunately, I discovered a plugin called CleanTalk. All you need to do is signup on their website and install their antispam plugin, and you can wave bye-bye to spam, without needing to use annoying speed-hog ReCaptchas.
Well, as you might imagine, I was instantly sceptical. But, you know what? I tried it, and it works very well.
Since using CleanTalk, I can now say with considerable confidence that only interested human beings join my newsletter.
Did I mention the price? Well, that is the fantastic bit, because you can have a year's worth of antispam cover for (at time of writing) just $8.
I have had CleanTalk installed on my blog for about three months now, so I can tell you from personal experience, how remarkably effective it is.
If you want to try out the CleanTalk before you buy a subscription, simply install it on your WordPress site, and you will automatically receive a free 7-day trial.
What is CleanTalk, and why is it great?
The setup is straightforward (a lot easier than Akismet).
CleanTalk will stop spambots before they can get to your contact forms which helps to relieve pressure on your hosting server.
It isn't a free plugin, but it is cheaper than Akismet.
It does a lot more than Akismet because it can protect any type of form without having to change the settings for each type of form.
The settings you make for the plugin automatically apply to all the forms on your website, including comment forms, contact forms, and opt-in forms.
There is new functionality to check emails for existence, which stops people signing up with invalid addresses.
Your email list will be clean of spam signups and invalid email addresses which means your sending reputation will go up.
It doesn't slow your website down.
You can try out the plugin for free for seven days.
How to setup and use CleanTalk antispam plugin
Step 1 – Sign up at CleanTalk
Pop over to the CleanTalk website and sign up for an account.

When you have your account created you should be presented with an access key.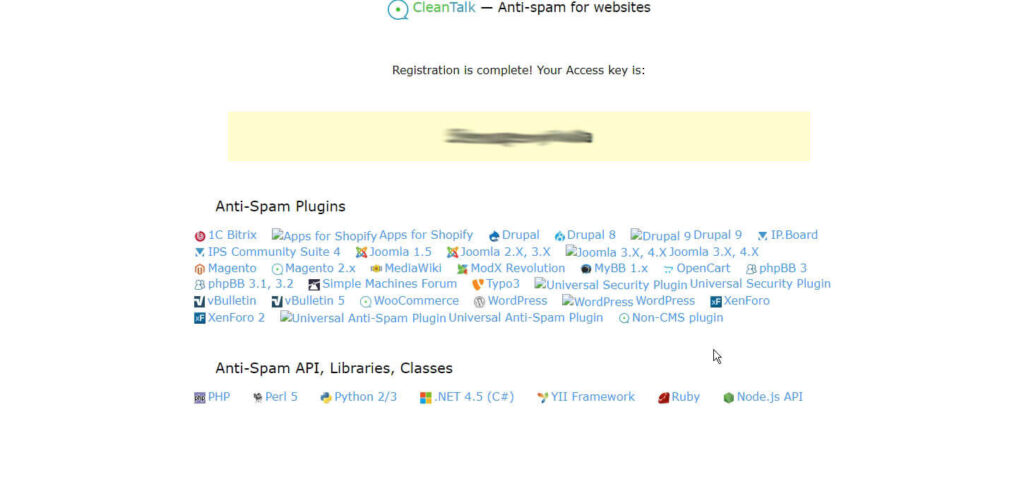 Copy the access key. You will need it later when you install the plugin.
Step 2 – Install the CleanTalk plugin
Go to Plugins->Add new
Search for cleantalk and you should see the plugin Spam protection, AntiSpam, FireWall by CleanTalk
Click Install Now then click Activate when it appears.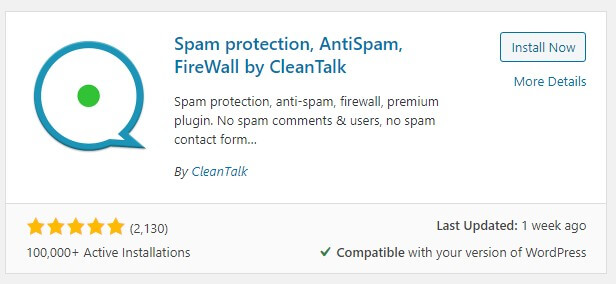 The settings screen should then open, but if it doesn't go to Settings->Antispam by Cleantalk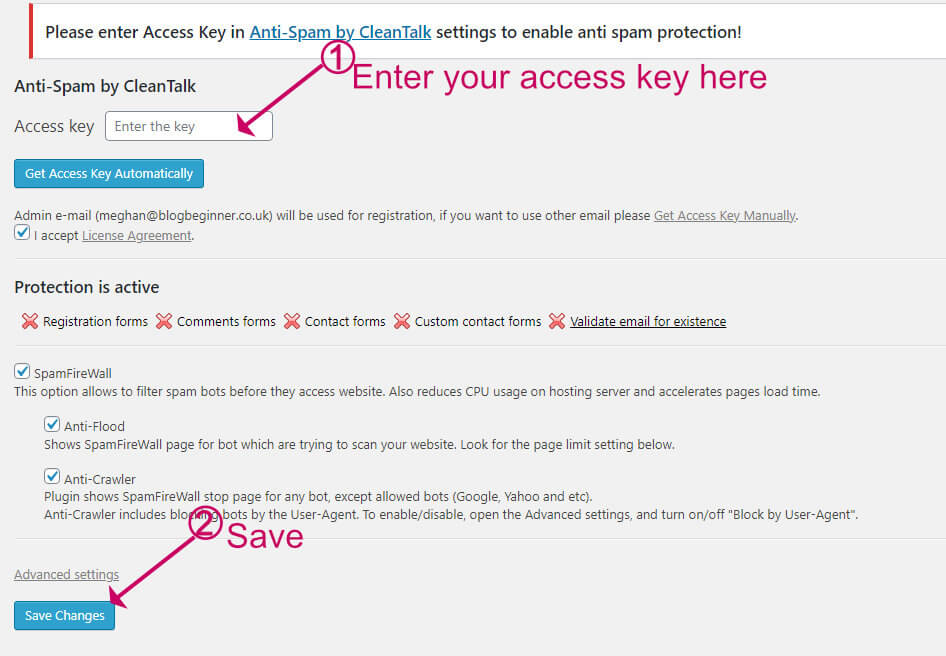 The next step is to enter the Access Key that you copied from the Cleantalk website in Step 2
Then click Save Changes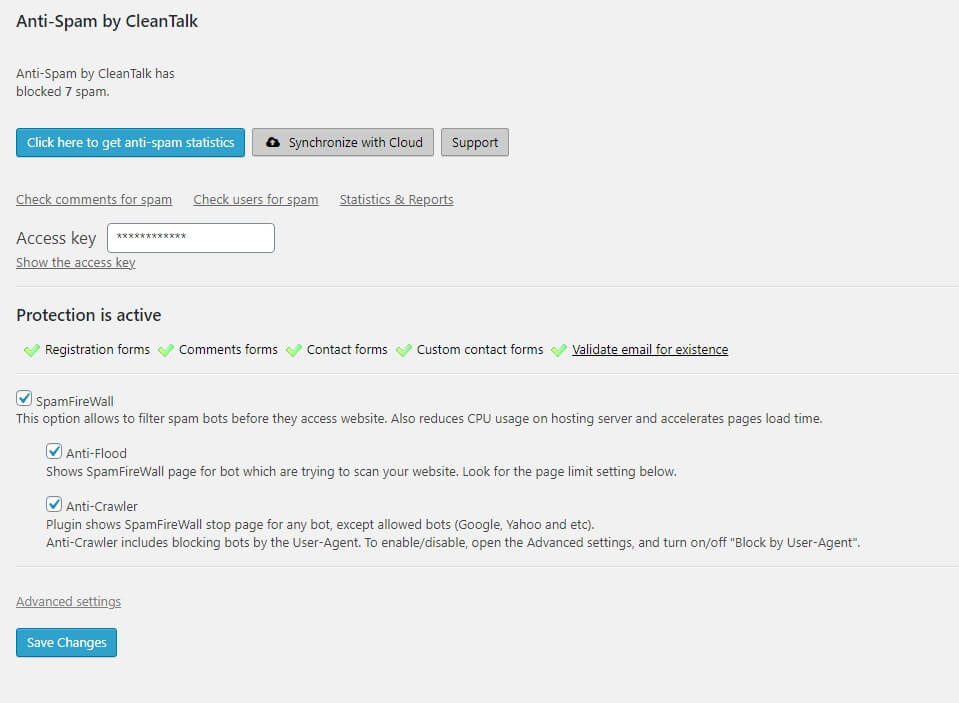 Once you save your access key, the plugin immediately begins protecting your site from all types of spam.
Step 3 – Setup the CleanTalk plugin
On first install , CleanTalk turns on the Spam Firewall, Anti-Flood, and Anti-Crawler.
I recommend you keep Spam Firewall turned on at a minimum because this means that bots will get turned away from your site before they can get anywhere near your website forms.
The plugin makes some default settings for you which you can see by clicking the Advanced settings link.
In the Forms to protect you can fine-tune how the forms on your site are checked.
If you have added HTML to your site supplied by your email provider such as Mailchimp, Mailerlite, Aweber etc., then you will need turn Protect external forms on.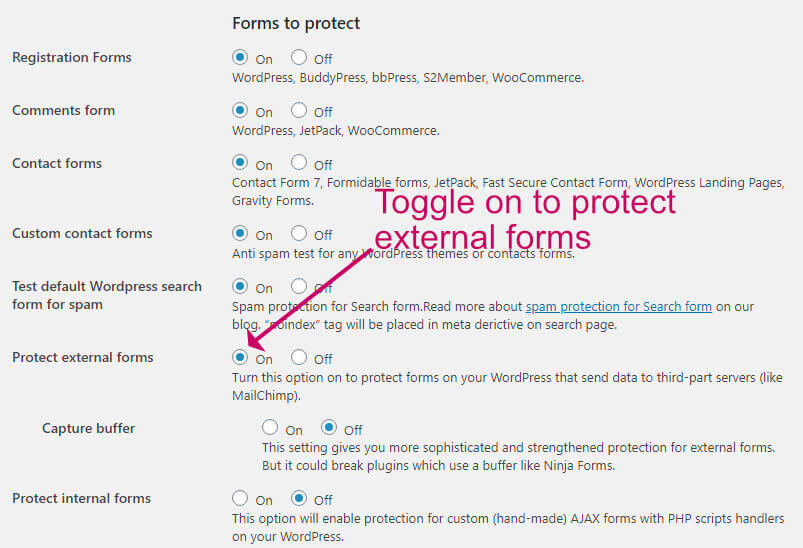 Step 4 – Make sure CleanTalk is picking up spam
The last step is to test your forms are filtering spam.
Open an incognito browser window, or log out of WordPress
Choose a contact form, comment form, or any form that accepts an email address.
Enter [email protected] as the email address, the name, or any other information does not matter.
When you click the submit button, you should see a 'Forbidden, sender blacklisted' error. This means that the form is correctly picking up spam.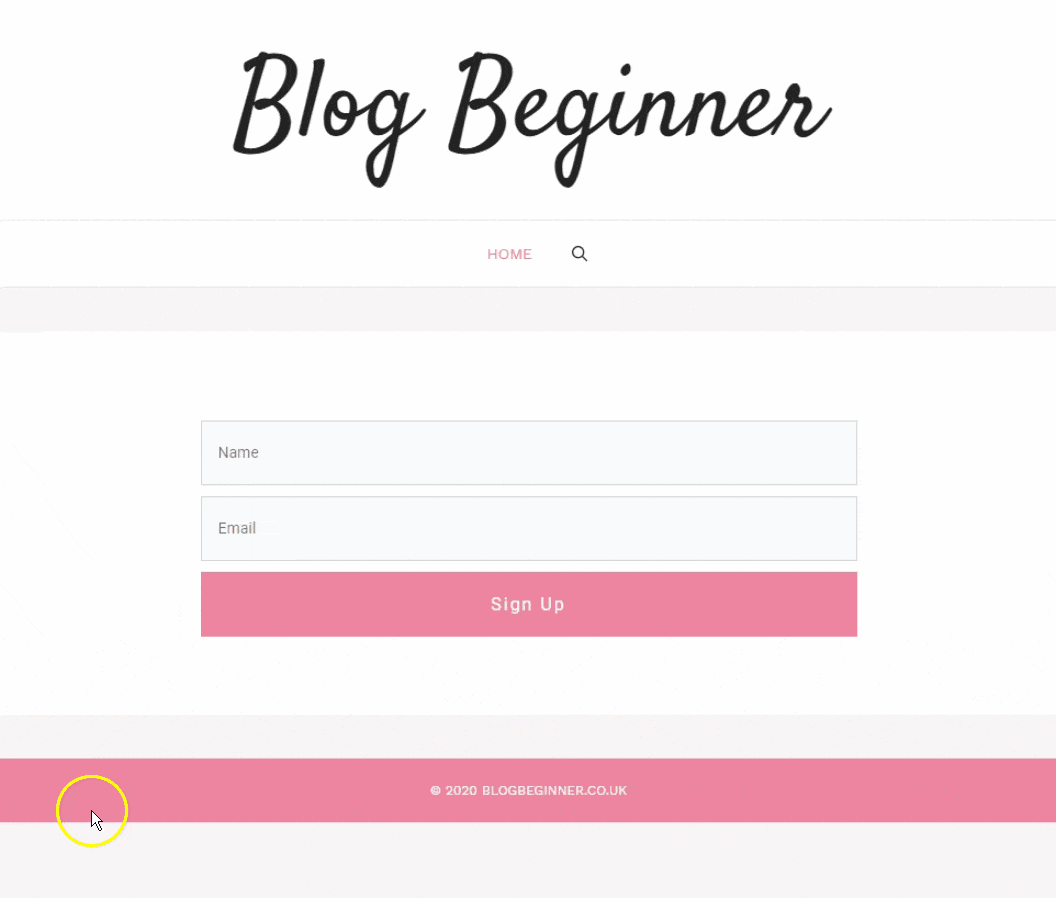 Plugins you no longer need when you have the CleanTalk plugin
CleanTalk stops comment spam dead, so there is no need for the Akismet plugin
Any plugin that adds a Recaptcha to the comments or contact forms
Google Recaptcha requires some heavy Javascript files that load on every page of your website regardless of whether it has a ReCaptcha on it. You can safely remove any plugins that use it such as reCAPTCHA in WP comments form or Advanced noCAPTCHA & reCAPTCHA (v2 & V3) plugin
Wrapping up
The CleanTalk plugin has become one of the essential plugins that I now install on every WordPress website.
It is super-easy to install. In just a couple of clicks, you can protect your whole website from spambots.
If you are a blogger with an email list to grow, this plugin is crucial to keeping your list clean and your sending reputation high.