Today I'm going to cut to the chase and talk about the reasons why you should not start a blog at this particular stage of your life, or perhaps ever.
I talk a lot about blogging on this site. Most of my readers are bloggers, so naturally, I give people what they want to read, plus it is a subject I am interested in a lot. I also know that a lot of you struggle using WordPress for their blogs, and it is my goal to help you overcome those technical hurdles.
The last thing I would ever want to do is to encourage you to start a blog when it isn't suitable for you. There are so many get-rich-quick style posts on the internet today about how to get a blog online in just a few minutes. We both know that isn't the case, don't we? A tremendous amount of work goes into designing and creating a blog. Along with the many technical struggles you might experience, it can all add up to the feeling that perhaps blogging isn't for you.
Here are my top five reasons why I think blogging might not be for you.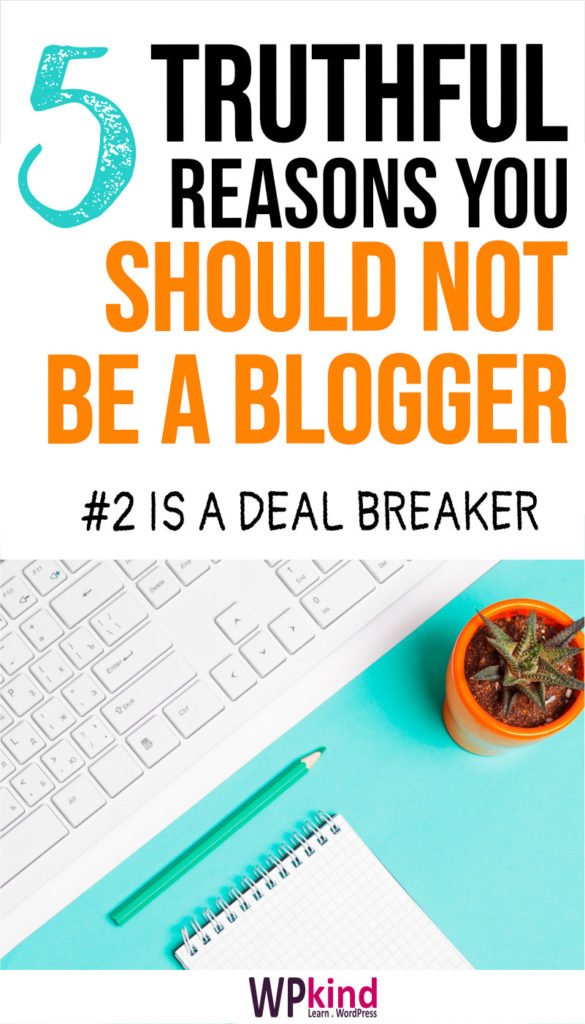 #1 You should not start a blog if you want/need blogging success to happen quickly
I already mentioned how blogging is not a get-rich-quick kind of business. If it were, then I guess everyone would be doing it. It takes a long time (months, even years) to build a loyal audience. When you have an audience, you then need to monetise that audience so that you can sustain the business financially, this all takes time too.
If you need money absolutely now, then don't commit to full-time blogging. The last thing you want is to feel under pressure to earn an income; the sense of urgency could be counter-productive to any success you might have.
Many people start blogs on the side while doing a full-time day job. That could work for you if you have the time, you are motivated, and you are prepared to sacrifice other things in your life, such as socialising, TV, or even family time. Building a blog takes longer part-time, but it could be a less-stressful option.
#2 You should not start a blog if you don't like to learn new things
There is a vast amount of stuff to learn when you start a blog. Let's have a quick look at some of those:
How to set up a new blog on the internet
How to use SEO to get traffic
How to use social networks to get traffic
How to monetize your traffic
How to grow an email list
How to take great photos
How to design graphics for social media
How to make videos
Within those areas, there are technical hurdles to cross, such as learning how to use WordPress, how to use the email app to create a newsletter, how to add opt-ins on your blog, how to use Pinterest, how to take great photos, and make videos, and more!
If you aren't prepared to learn most of that, then you will need to be ready to spend money to hire people to do it for you instead.
#3 You should not start a blog if you don't have a passion for any particular topic
It is much easier to blog about a subject if you have a passion for it.
I blog about WordPress and blogging with WordPress. I have been doing it for several years. I know my subject very well now, and I get (I know this is weird) excited about new plugins and shiny themes, anything that I think I will help out my readers.
If you don't have the passion for something, your readers will catch onto that, and they won't come back to visit. They will know you are in it only for the money or the free gifts.
If you have little knowledge about your topic, it doesn't matter that much, as long as you have the passion. Some people like to treat their blogs as a learning journey in which their readers come along for the ride, and that can be a lot of fun too. If you don't have prior knowledge, posts can take longer to write due to the additional research you need to do.
#4 You should not start a blog if you hate social media
I'll admit that I am not a lover of social media, but I know that I need it for my blog, so I'm prepared to go with it and learn everything that I can.
Being present on one or two social media platforms is an absolute necessity for getting traffic early on because Google won't register you even exist for at least six months or more into your blogging journey.
If you detest social media, then blogging isn't for you. You must be prepared to embrace (and rock!) at least one social media platform. For me, that is Pinterest. I have put an enormous amount of effort into growing my Pinterest account, and it is now at the stage where it is sending me some traffic. But it took a lot of work and experimentation to get to the stage I'm at now. I read what seemed like thousands of blog posts, bought e-courses, and books. I lived and breathed Pinterest for quite some time.
Facebook is next on my attack list. Follow me here please!
#5 You should not start a blog if you don't have the time
Blogging, and the tasks around it take up a lot of your time. Let's break down how long it takes me to write a post!
Write the post (time depends on the topic) – 3-5 hours
Make the graphics (featured image, facebook sharing image and Pinterest pin) – 1 hour
Marketing, sharing on Pinterest, Facebook and twitter – .5hrs
Total: 4.5-5.5 hours
In the beginning, while you are building up your archive of posts, you would need to write 2-3 posts per week.
We also need to factor in the time it takes to decide on what subjects to post about. For that, you will need to spend some time doing keyword research. Additional tasks depend on your niche. If you are a food/craft blogger, for example, then you will need to allow time for the practical tasks of cooking/creating and then taking photos.
I know a lot of bloggers save time by batching tasks. If you are going to do that, then you need to be a good planner too.
Along with that, you need to spend time setting up your blog, designing it, making a logo, setting up your email list and sending out regular newsletters to your subscribers. In the initial stages, you will need to allow time for learning how to do all those things too.
Still with me?
If none of the above phases you, then you are in the right place! I would love to welcome you as one of my tribe. Please sign-up to my mailing list, and follow me below, and let's get to know one another. Please feel to drop me a line too.
[thrive_leads id='15581′]
I said at the beginning that I blog about WordPress and blogging. Well let me tell you a little secret, this is pretty new for me too. There I said it!
I have been working with WordPress (as a developer) for a lot longer than I have been a blogger. I could run off a WordPress plugin in no time, write a new WordPress theme from scratch, and troubleshoot an ailing WordPress blog without blinking. I can even do two back-flips (not really haha).
I ran a high traffic blog for several years and learned a lot in the process, but this blog is my first serious one. This is a learning journey for me too. I would love it if you joined me for the ride.