Today I'm going to share with you exactly how to add affiliate links to blog posts.
Promoting third-party products and services is one of the top ways that bloggers can earn an income from their posts.
Other ways to make money blogging are through advertising, sponsored posts or by selling products and services.
Earning cash through affiliations is a great way to make passive income. All it takes is one good blog post about a product, and it can bring in the money while you sleep!
I like to put affiliate links across several posts. I often mention the Elementor Page Builder plugin, for example, in lots of different posts because it is so versatile.
How do affiliate sales work?
Let's look first at the process of finding affiliate products to promote, right through to actually earning a commission.
Find products or services relevant to your audience
Sign up for the affiliate program for the product or service
When accepted, you will receive a unique link for the product/service
Write a post mentioning the product and embed the given affiliate link into your post
When someone clicks on your affiliate link, they will receive a browser cookie and will be redirected over to the merchant website
If a sale takes place, the merchant will check the customer's cookie, and attribute the sale to you.
You receive a commission from the merchant, usually a percentage of the sale cost.
The plugin I use for affiliate links
For adding an affiliate link to blog posts I use Easy Affiliate Links Plugin, and the good news is, it is absolutely free! I will show you exactly how to use it in the video above.
The great thing about the plugin is that it allows you to make 'pretty' links for your affiliate links.
Here is my affiliate link for the Elementor Page Builder plugin:
https://wpkind.com/recommends/elementor/
When clicked, the browser will redirect to the actual URL, which is:
https://elementor.com/?ref=5934
At the same time, the plugin will track link clicks. You can see the logs here:
Affiliate Links->Click Statistics
Easy Affiliate Links also has an option for changing the slug (default is 'recommends'), and options for how the link behaves (whether it opens in a new window, etc.).
But, to be honest, the defaults are perfectly good, I didn't find a reason to change them.
If you need to, you can access the options via Affiliate Links->Settings
How to use the Easy Affiliate Links plugin
Let's look next at how you can install and use this plugin.
How to make an affiliate link
The first thing to do is to install and activate the Easy Affiliate Links plugin. If you are not sure how to install plugins, I have a guide for you here: How to Install a WordPress Plugin.
When you have the plugin installed and activated, click on Affiliate Links on the left of the dashboard.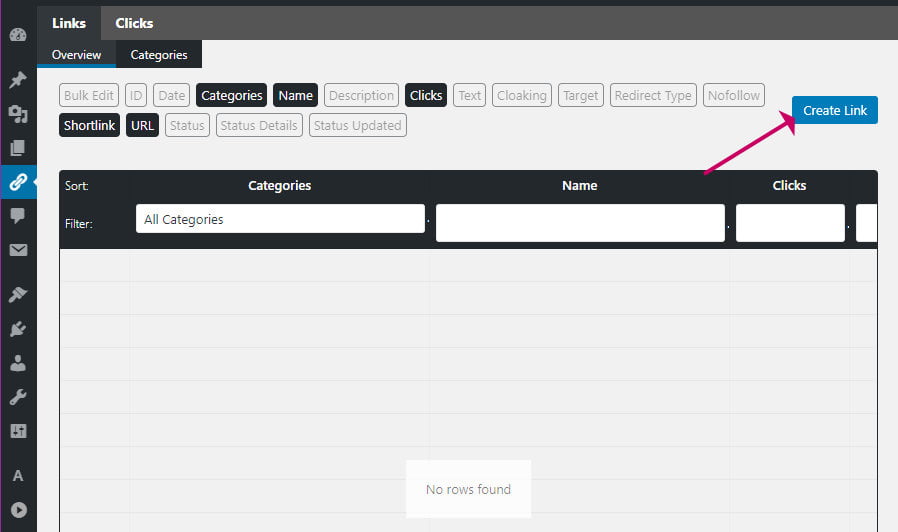 Click on Create Link
Enter a Name for your link and the Destination URL (this is the unique link that the affiliate site gave you when you signed up for their affiliate program).
Click Create Link at the bottom.
How to add an affiliate link to a post
Now we have created an affiliate link; the next step is to add the link to your blog post.
The following directions are for the Gutenberg editor that came with version 5.0. If you don't have that version yet or you are using the classic editor plugin, you will find the blue affiliate link icon in the editor toolbar.
Related post: How to Update WordPress the Right Way
Open the post for editing
Highlight the text you want for the link
Click the blue Link icon from the block's toolbar

Find the link from the list and click the corresponding blue insert link button
If you have a lot of links to choose from, use the top boxes to run a search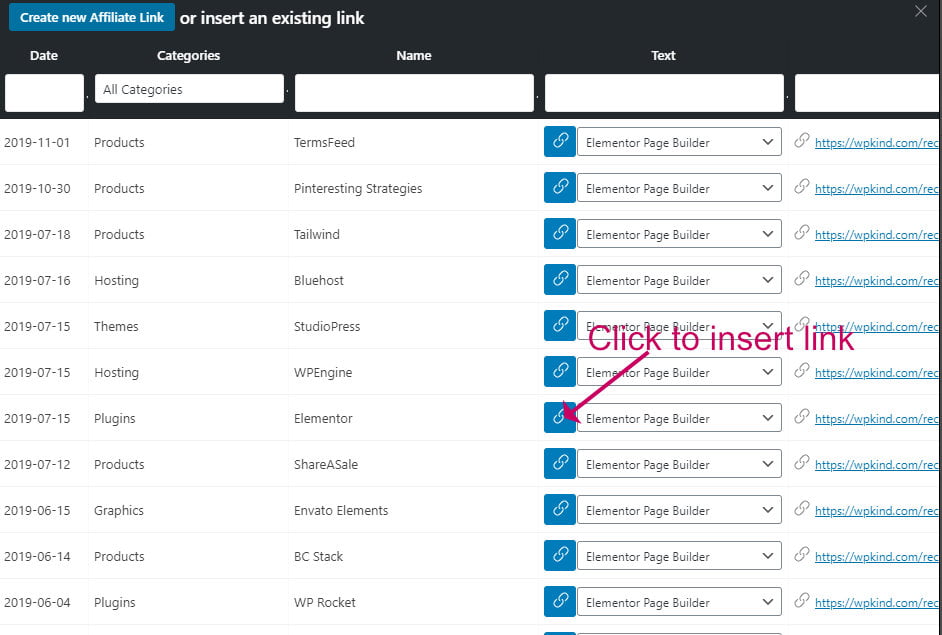 Where to get affiliate links
Now you may be wondering how you can find and join affiliate programs.
I have a mixture of affiliate links on this site:
Courses I liked
Plugins and themes I love and use
Hosting plans I use or like
Products and services I want to promote such as Newsletter apps
Your list will, of course, be very different depending on your niche. The best place to find out if a particular product or service you like has an affiliate program is to go to their website and search the home page for the word 'affiliate'. Usually, there is a link in the footer for the program application.
Some affiliate programs are invitation-only, and for those, you will need to send in an individual request.
There are also sites where you can sign up to several affiliate programs all in one place. My favourite and the one I use is ShareASale. The great thing about these sites is that all the earnings from the different affiliations are paid in one lump sum.
As well as ShareASale, there are some other programs you could check out too.
How to disclose you have affiliate links in posts
Disclaimer: I am not a lawyer. The information in this post is for informational purposes and does not constitute legal advice in any way. I am not liable for any damages resulting from using the information in this article. Please consult a lawyer for advice on your unique situation.
In any post where you have added an affiliate link, you should disclose that fact to your reader.
Disclosure statements are a legal requirement in blog posts in the following conditions:
The post contains affiliate links where you earn a commission should your site visitor click them and make a purchase
Sponsored posts, where you are paid to talk about a product or service
Content for which you receive compensation in the form of free products
The disclosure should be unobscured and clearly positioned, ideally at the top of the post or near to the affiliated link or content.
My prefered way of doing this is to create a reusable block containing my disclosure statement. I can then add this very quickly to any posts that need it.
Here is an example:
As you can see, I have also created a separate page for my disclosure to make the section a bit shorter.
Related reading:
Wrapping up
In this post, I have taken you through how to incorporate affiliate links into your posts. We've concentrated on the practical side, but we should remember that any post you write should primarily be informative to the reader. If you pack a post with too many affiliate links or make it far too 'salesy', your reader will be on to you like a flash, and will very probably go away quickly.
If you don't have readers, you don't have a blog.
It's worth knowing that you can put these affiliate links in your newsletters too. Just copy the pretty URL from the affiliate links list and add it to your newsletter copy. Don't forget to add a disclosure statement in your email, just as you would for a post.