In today's post, I review the best free blogging platforms available today. When you think of a blog, many people immediately think of WordPress. WordPress is still the top choice for blog sites, even though many other options have come on the market since its inception, but is it still the best option?
Here are the platforms on review with quick links to each one:
WordPress.com
At WordPress.com you can have a WordPress powered website hosted for you on WordPress.com servers for free. Note that this is different from hosting WordPress yourself with WordPress.org. If you are curious to know more about the differences I have a great post here WordPress.org vs WordPress.com – Which Should I Choose?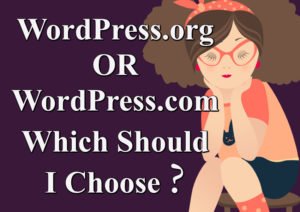 WordPress has never forgotten its roots. Bloggers are still firmly at the core of its focus, and that shows in the great editor. Recently the editor has been turned on its head with the introduction of Gutenberg.
The new Gutenberg editor is block based, so instead of having one big box for your content, the editor is broken down into smaller parts (known as blocks), comprising of headers, paragraphs, images, and video to name the main types.
Some people are critical of the new editor, but I am warming to it. I have a few gripes, but on the whole, I like it because the editing experience is much more visual than it was before. I can get a much better idea of what the post will look like when published than I could in the old editor.
You are not forced to use the new editor, there is a plugin that you can install to add the option to use the classic editor, and I tend to keep switching between them because Grammarly doesn't work so well in Gutenberg. Hopefully, that will improve.
I like to paste text from Microsoft Word, and WordPress does an outstanding job of that. Pasting text is even better in the new Gutenberg editor, breaking down the text components (headers, paragraphs, images etc.) into individual blocks, which I found very impressive.
The free tier of WordPress.com allows you to create a simple blog with a personal domain. There are currently 284 curated themes to choose from within the theme library, of which 100 are free. The premium themes range in price from around £30 to approx £100.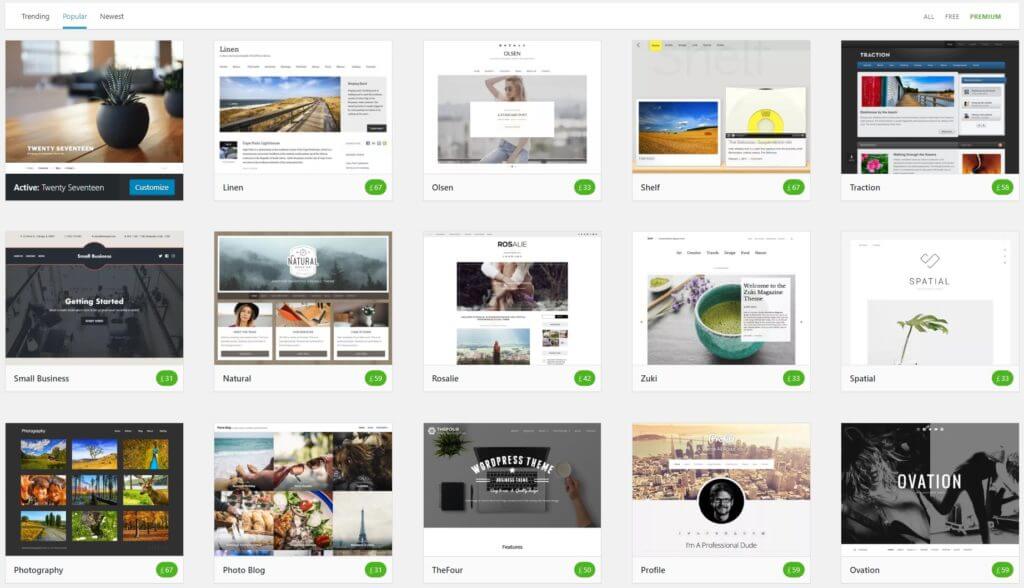 You can install your free or premium theme very quickly by going to Appearance->Themes from the backend admin screen.
Before selecting a theme, you can preview it to get an idea about how it will look in your site before you make the switch. That is when you realise that the gorgeous theme showing in the theme library, isn't quite so gorgeous.
Here is the most expensive theme I could find in the library at £106.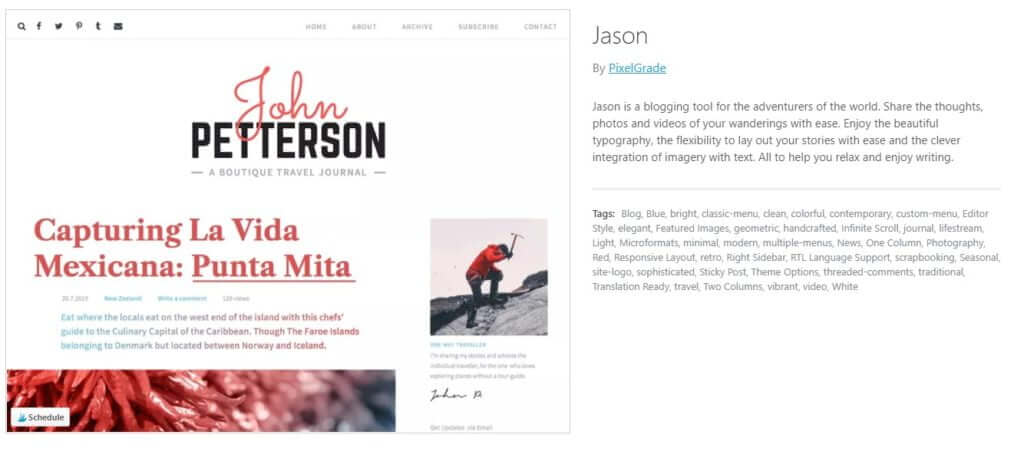 This is how it looks when I preview it. Without the stylish logo and images, it doesn't look quite so good!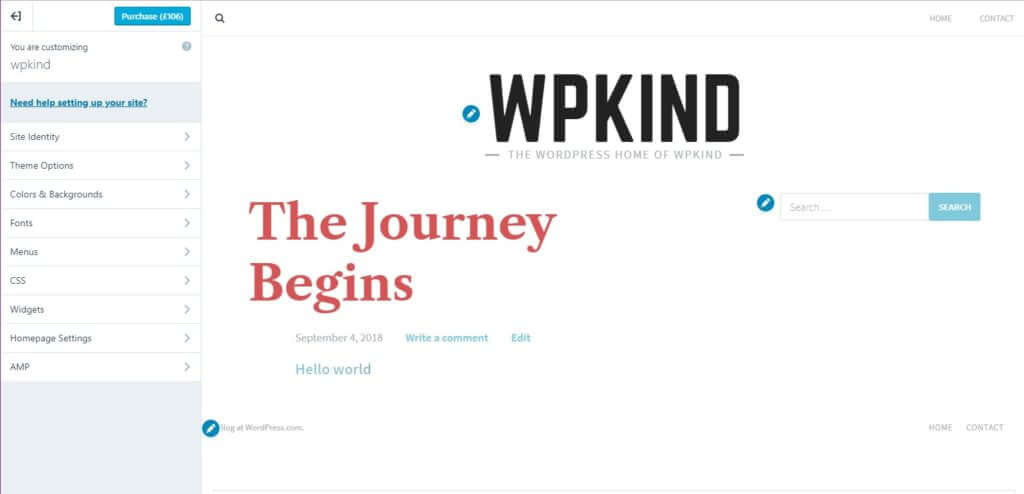 The free account does not allow you to upload your chosen plugins or themes unless you upgrade to at least the Business Plan which will set you back £20 per month. You do however have use of the JetPack plugin, which gives you a lot of extra tools and widgets, such as a social sharing widget, contact form, enhanced comments, related posts, slideshows, and more.
A big minus point of the free plan is that WordPress.com adds their own advertising. See below where adverts appear. To remove them, you would need to upgrade to at least the premium plan for £7 per month.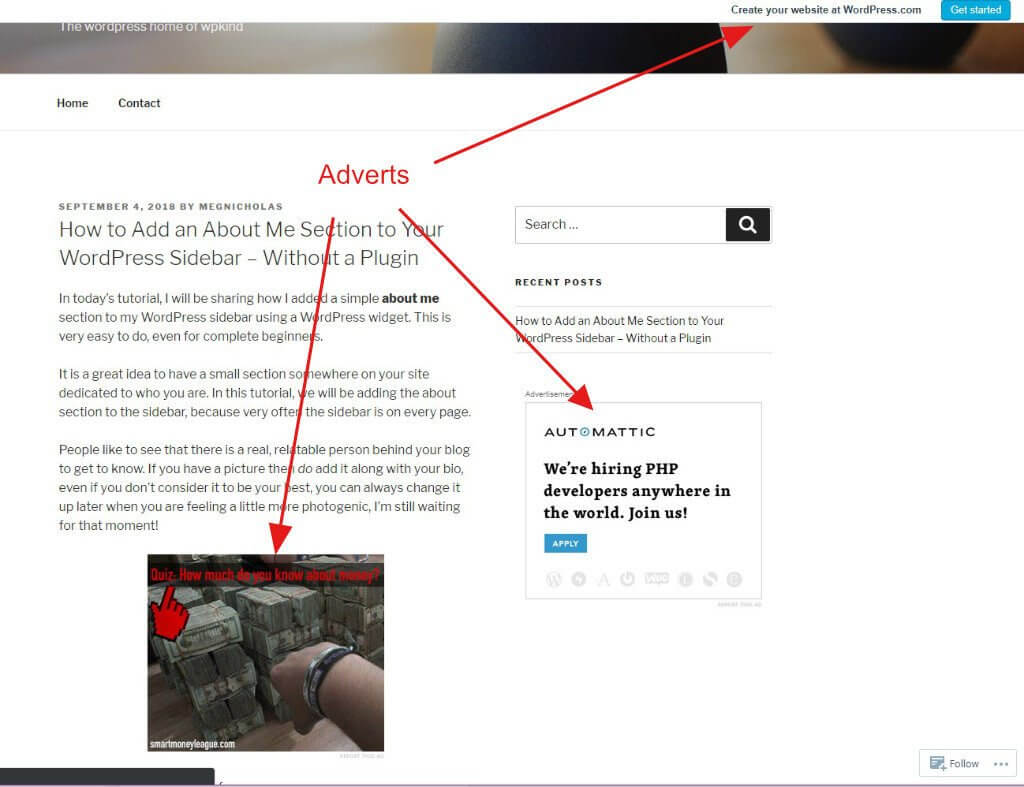 To add your own adverts you would use the Custom HTML widget to add code for partner/affiliate adverts in the sidebar. If you have enough traffic, you can join WordPress's advertising program called Wordads which is similar to Adsense but doesn't pay out as much.
Building a mailing list is very straightforward with the subscribe widget from Mailchimp or using the Custom HTML widget containing a subscribe form from your preferred provider.
Pros
Easy to upgrade to paid or self-hosted in the future
Great post editor
Cons
Cannot install plugins and themes
Adverts are added by Wordpress.com
Conclusion
You can't install additional plugins on the free tier of WordPress.com, but this probably isn't a deal breaker for a simple blog, although having to put up with their adverts might be. The big advantage is that having set up your free blog up on WordPress.com, you have the option to export out to a self-hosted WordPress.org site at a later date, where you have much more freedom to install themes and plugins of your choice. Good web hosts will help you import your WordPress.com site over to them, so don't view this as a daunting task! My favourite hosts are SiteGround and the host I use – Kualo, both of which have plans well under £20 per month with free site migration.
Wix
Wix allows you to build any business or personal website with drag and drop capability.
There are lots of templates to choose from including blogging templates. Wix has a neat wizard to start you off. Once it has got to know you better, it presents some site designs for you to select. From there you can start blogging immediately.
Wix is true 'what you see is what you get' when it comes to designing your blog, which is something that WordPress.com hasn't achieved yet. The drag and drop builder allows you to add new sections to your site.
To add an advert, you could either upload the site's image into a new section or add some custom code.
Unfortunately, sites on Wix's free plan have to host a link to their service at the top of all pages.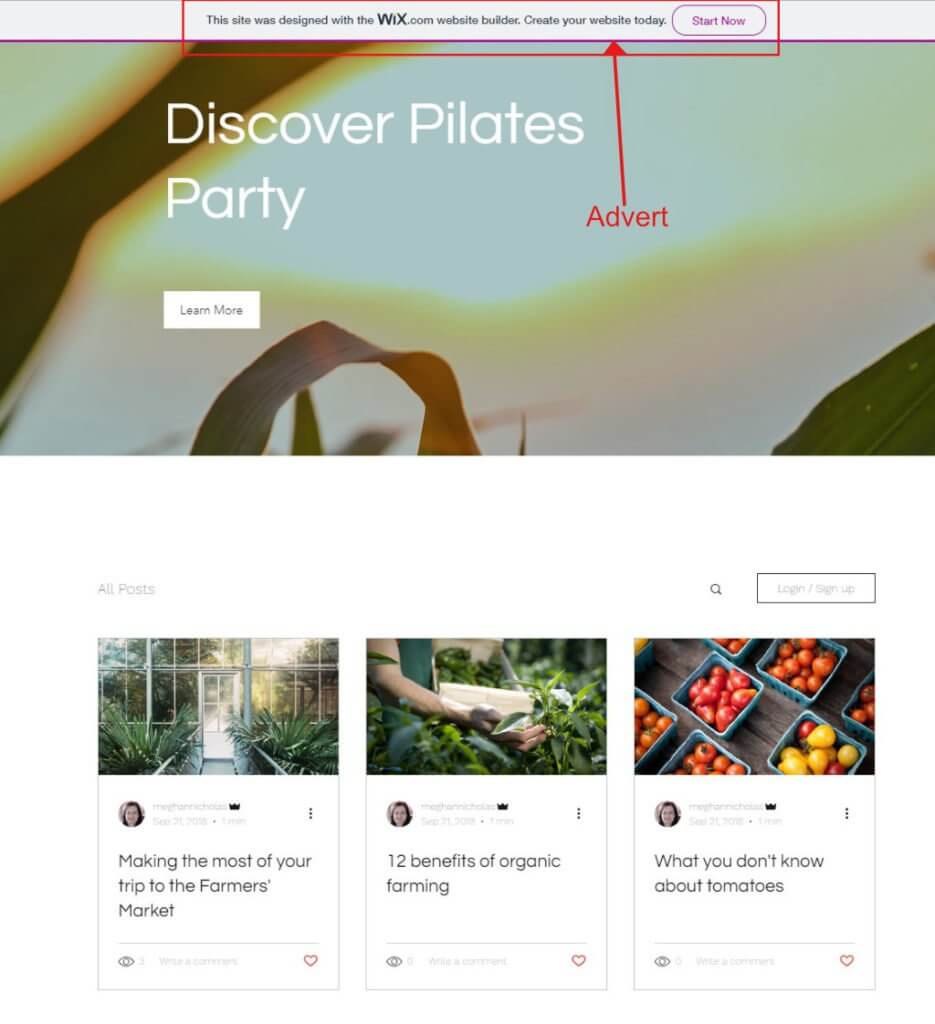 There is an inbuilt email marketing system called Shoutout. Using this service, you can collect email addresses from your site visitors and store them as Wix contacts. The free plan allows you to send out 5,000 emails per month. There is an option to use MailChimp to send the emails instead. It is also possible to use MailChimp to collect and store the email addresses too, but there is no convenient widget for that, you would have to cut and paste some code.
There is no export facility to get your posts out and into another blogging platform. It is possible to export out to WordPress via the RSS feed, but Wix does not add an RSS feed automatically, you would need to add it yourself. The RSS feed would only include blog post data, anything else you have added such as an about page would necessitate a manual copy.
The post editor isn't great. In my test, all links and headings pasted from Word were lost. The editor text colour doesn't stand out enough from the background, and there are no shortcuts for creating headings. The WordPress post editor is far better in this regard.
Pros
Drag and drop website designer
Quick and easy to set up
Inbuilt tool for email marketing
Cons
Can't use a personal domain (on the free plan)
There is a Wix link at the top of all pages (on the free plan)
Not easy to move away from Wix
Poor post editor
Conclusion
Wix claims to be an excellent choice for bloggers, but, I think that it is an after-thought. Their editor is not good enough for bloggers. They don't make it easy to export posts to another platform, which makes it a poor choice for bloggers wanting to use it as a first free solution.
Tumblr
Unlike Wix, Tumblr is made only for blogging. However, in my view, it looks more like a social network than a blogging platform. On sign up you select topics of interest and a feed is created along with a public blog. You can manage some basic things about the blog, for example; the design, who can reply, and the visibility (whether to show it in Google search results).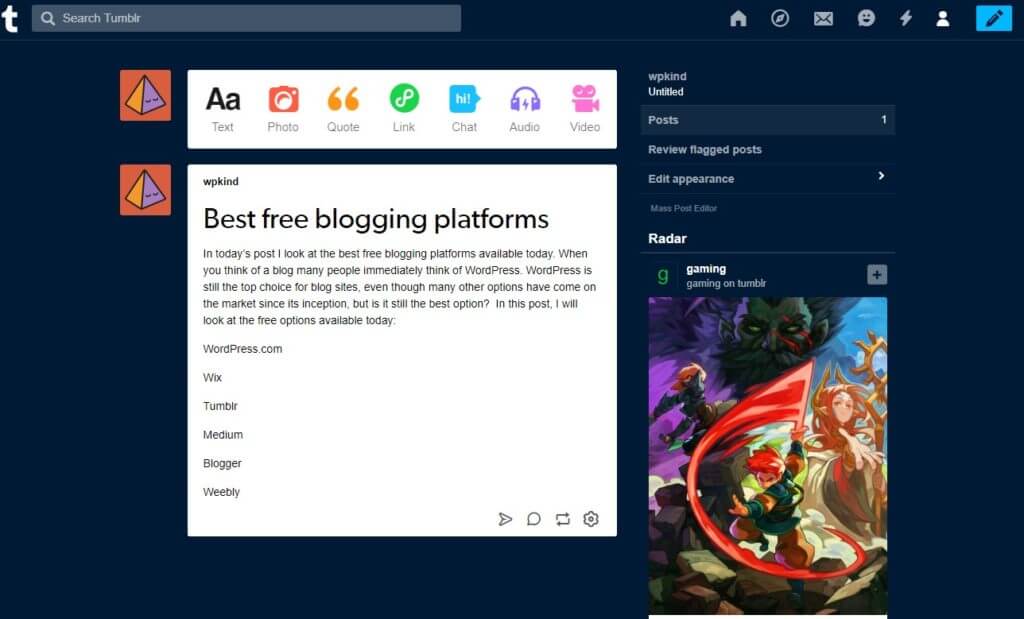 Tumblr has various mobile apps which could be very useful for blogging on the go.
There are several free themes to choose from, or premium themes available for purchase. You can also write your own theme should you be minded.
Adding a new post is as easy as clicking the 'text' button at the top of the feed. People tend to use Tumblr for posting short articles or as a means of sharing posts from their main website, and I think that the post editor reflects that mode of usage. It is basic, and not conducive to writing long posts with lots of images.
You can connect a personal domain to a Tumblr blog. Affiliate links are permitted, and you could add adverts if you are comfortable editing HTML code.
There is no provision for managing an email list. You would have to add your own page with a link to an external email list.
Pros
Free, no paid upgrade path
Easy to export posts
Simple to create a post
Cons
Geared towards short posts or sharing links from another website.
A few free themes to choose from but you would have to pay for anything else or write your own.
Not straightforward to insert adverts
Conclusion
If you do not intend to create large blog posts, or you want to start small, then this could be for you. If you decide later to switch to wordpress.com, then wordpress.com provides an import wizard from Tumblr. It does not natively manage an email list for you, so avoid if this is important to you, or use it as a way of promoting your blog posts hosted elsewhere, as many other users seem to be doing.
Medium
Medium is all about the content. All posts are the same style, the emphasis being on the content, so you can't differentiate by selecting a different font. However, you can insert images. Medium's post editor is the best I have used with a simple distraction-free interface.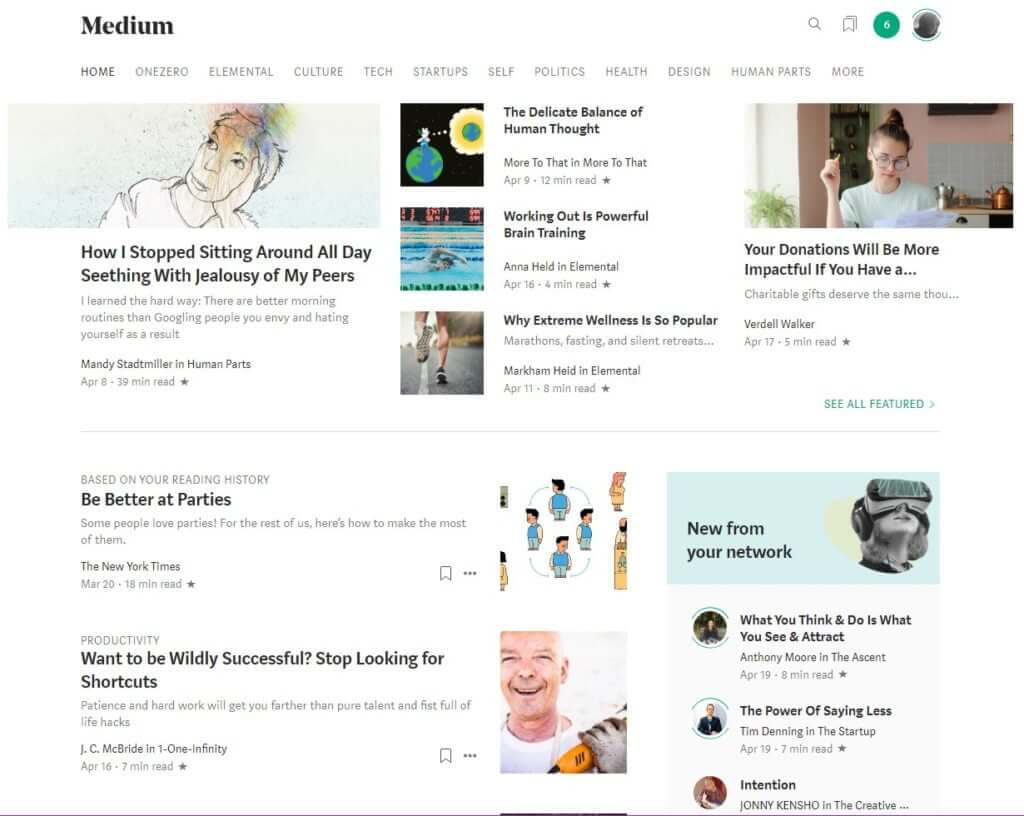 Medium will not create a website for you as such when you sign up, but you can create a publication and set it up with a personal domain.
When you first sign up, you become both a reader and a publisher. You can applaud/clap, and comment on other people's posts. Applauds are akin to 'likes', but you can clap more than once to signify your level of appreciation. Other Medium members can follow you, and you can follow them. It's a great community.
Posts can contain affiliate links. However, be careful not to base your whole post around an affiliation. Where Medium is different from the other blogging platforms, is that you can earn money from your writing. By Joining Medium's partner program, you can put your posts behind a pay-wall. You get paid indirectly by readers who have bought a subscription and then applaud your post. The more applauds/claps you get, the more money you can earn.
Articles posted on Medium get a much broader reach then they likely would on a personal website, due to Medium's higher search ranking, mobile apps and email digests.
Medium provides an export facility that you can then use to import into WordPress.com.
Pros
Free to publish
Great post editor
Wider reach
The possibility of payment for posting
Cons
Conclusion
If all you want to do is write, and Medium's partner program appeals then this is an excellent free choice for your blog. You could use it in conjunction with another blogging platform and thereby use Medium's greater reach to draw visitors to your main blog. It's worth noting that if you link back to your blog from a Medium post, it is a nofollow link. The Google spider bot does not follow nofollow links, so you don't get the SEO benefits to your site. If you are after some link juice, then it is best to guest post on another blog and agree first for followed backlinks. It's not possible to build an email list from this platform. Should you want out at any time, there is an export facility.
Blogger
Blogger is a Google product. If you have a Google account, then you are already halfway towards creating your blog! If you like Google's Gmail interface, then you are going to love the Blogger interface too as it has a very similar look.
Here is my little blog created with Blogger.
There is no option to upgrade to a paid plan, and you can't get rid of the 'Powered by Blogger' link at the bottom of the blog (but I did manage to hide it with some CSS). You can connect a personal domain easily.
There are several different themes to choose from, and you can personalise your blog further by changing colours and fonts. It is also possible to change page layouts, including the header and footer by moving elements around and you can add more functionality, for example, a blog search, or a followers list. On some themes, you have the option for a full-width design without the sidebar.
Unless the post editor on my chosen blogging platform is outstanding, I much prefer to write my blog posts in another app like Word. So, for me, it must be effortless to cut and paste into the editor. Unfortunately, pasted text from Word creates a mess of HTML requiring manual intervention. Blogger provides some shortcodes to help format the text such as bold and italic, but none for creating headings. It is not nearly as good an experience to use as the Medium or WordPress editors.
Adding adverts is quite straightforward using the HTML/JavaScript gadget (Blogger's name for widgets). Adsense, being a Google product, is very easy to integrate. In fact, on the theme I chose, it had already been added.
If you ever need to move away from Blogger, then there is an export facility which produces an XML file that you can import into WordPress.
It is possible to add a mailing subscribe form for MailChimp using the HTML/JavaScript gadget, pasting in the code that Mailchimp gives you. If you add the gadget to your sidebar, it will appear on all your blog posts.
Pros
Simple to start a blog especially if you already have a Google account
Works well with Adsense
Cons
Weak editor
Limited customisation
No option to remove 'powered by blogger' (but can be removed with CSS if you know what you are doing)
Conclusion
Blogger is a good option if you are not too particular about your blog design and want to concentrate on the content. However, the editor isn't great, so you would have to put up with that.
Weebly
Like Wix, Weebly is a drag and drop website creation tool with added functionality for blogs.
Unlike Wix, Weebly doesn't have a dedicated editor for blog posts. When I tested it, I had to make a text area by adding a text widget to the page content area.
Like Blogger, the editor did not take nicely to text pasted in from Word. The subheadings were not recognised, and there appeared to be no way making text into a heading. It seems that Weebly wanted me to construct my post by adding a title widget and then a text widget below, with further widgets for any images I wanted to include., which is tedious. On the plus side, it is nice to see drag and drop capability within a post, but I don't want to be forced to use it.
You can add a code element to your page, so that means you could add an advert to your site easily. If you added it to a sidebar, you could show an ad on all blog posts. There is also a dedicated Adsense element.
If you ever need to move away from Weebly then, unfortunately, it is not a simple case of export and import. WPBeginner has built a tool to help with the process, and they have a useful post to help you, but it is a shamue this is necessary.
Weebly does not place any adverts on their free tier sites, but there is a 'Powered by Weebly' banner in the footer.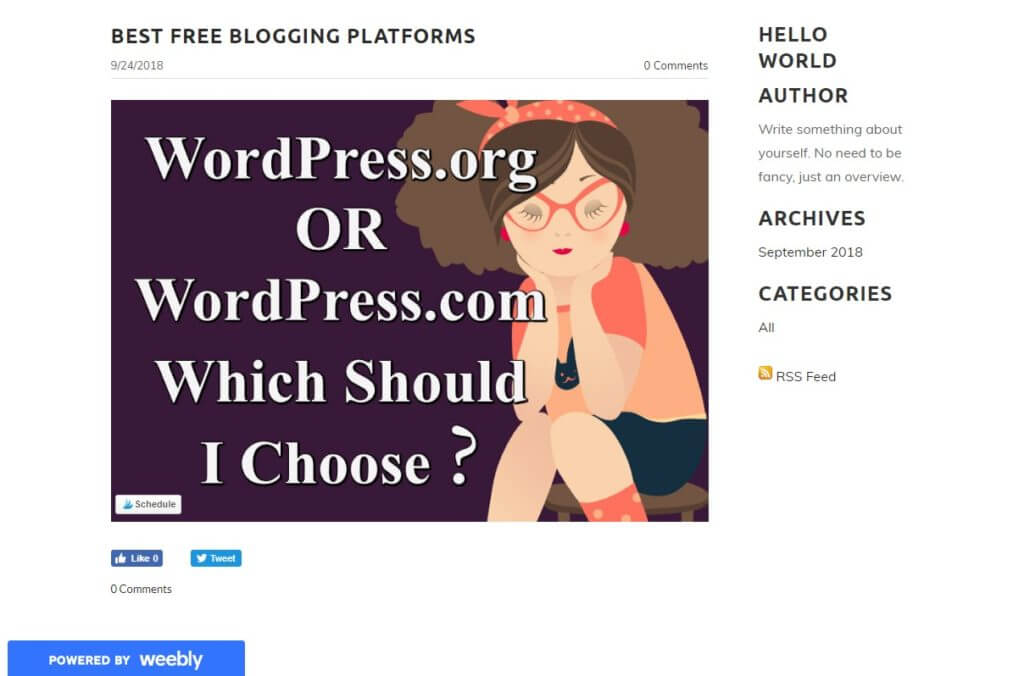 To add a mailing list subscribe form drag an 'Embed Code' element onto the sidebar and then paste in the code from your list provider.
Pros
Very nice drag and drop website builder
Lots of options for changing the design and layout of the site. Loads of apps.
Cons
The editor is no good for distraction-free writing, and pasting from another writing app is painful
Conclusion
This platform is more suited to building business websites. The editor is terrible for blogging, and it could be a headache if you ever wanted to move to a dedicated blogging platform like WordPress.
Wrapping up
Drag and drop for website builders are great for building business websites, but they are not necessary for bloggers who need to concentrate on writing first and foremost. It's okay if you can get a good post editor to boot, but both Wix and Weebly fail on this score so I could not recommend them for blogs.
Blogger is targeted squarely at bloggers. It works very well with Adsense and setting up your site should be very easy, but you may find the post editor lacking.
Medium's editor is a joy to use. It is a great place to start your blogging journey or to attract traffic to your main blog. There is the potential to earn from your writing with the Medium partner programme.
Tumblr is more of a social network than a home for your blog, but it may suit you better if you intend to make your posts short.
WordPress is an excellent home for your blog. The post editor is excellent. The free WordPress.com tier gives you enough freedom to start you off on your blogging journey until either you can justify upgrading or are ready to move on to a self-hosted solution. Either way, it is a long-term option that I believe the other platforms are not.
Those platforms that don't make it easy to transfer out are missing a trick (I'm talking to you Wix and Weebly) because in doing so they discourage new bloggers. Why not attract them in with an excellent solution for getting out cleanly, who knows, they may choose to stay?