I've lost count of the blog posts that I have read recently that go through the steps for starting a blog and then drop in a discounted affiliate link, which you can only get if pay upfront for three years, and then after that the price almost triples!
I have tried out almost every kind of hosting in my time …
Free, managed, un-managed, cloud, and dedicated, and various combinations of each.
I am a hosting nomad.
I have never bought a hosting contract for more than a month at a time. I like to have my pick of hosts as and when I feel it is time to move on without losing money.
Most recently I've gone back to fully managed hosting with Kualo, as I don't have time to tinker anymore. Their support is so fantastic, that I can concentrate my time on blogging, instead of fiddling around with settings and troubleshooting techie issues.
While free hosting has its drawbacks, I think it is a great way to learn the ropes without having to commit financially.
I've always adopted a philosophy of, just do it.
Sometimes it's better not to think about things too much or you will never do them. When I started out with my first WordPress blog I made so many mistakes that I shelved my first attempt at a blog and started over completely. You could regard that as a failure, and I guess it was, but it was fun, and I learned loads in the process, so for me, it was a win!
If you are beginning a new blog, you probably don't want to spend a fortune on hosting. Perhaps like me, you just want to tinker with Wordpress without breaking the bank?
Hosting your new blog for free is a great way to test the water, make those mistakes, and then carry on with that higher knowledge to the next stage, just as I did with my first blog.
As your blog grows and you learn more about Wordpress, I recommend you switch to a paid host, and there are some great ones around, but that is for another post.
Today we are talking about FREE blog hosting.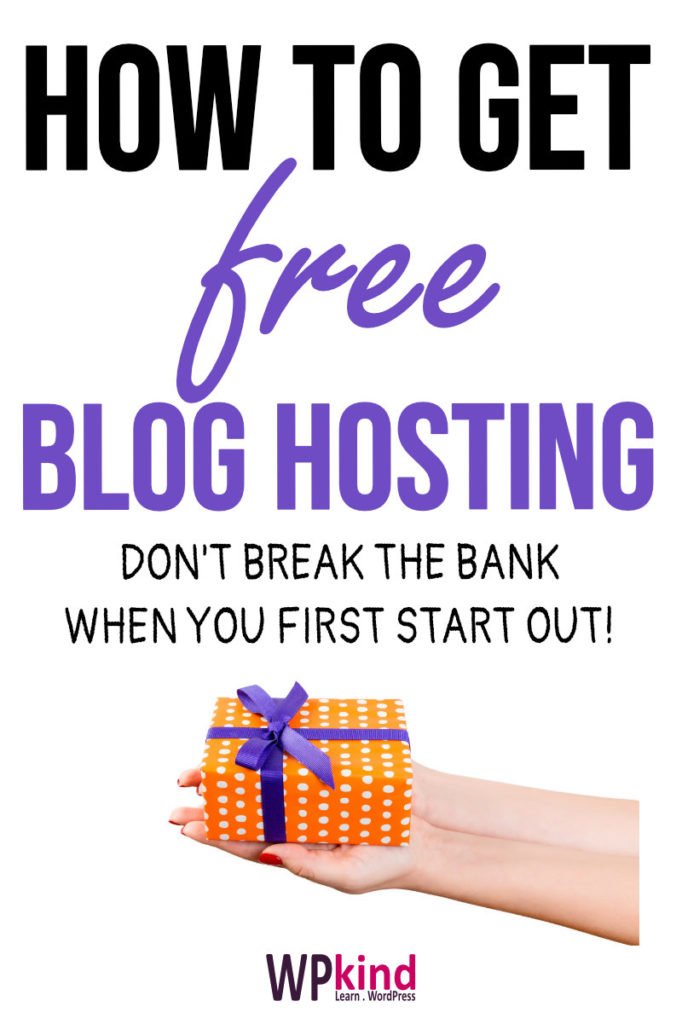 But first, a word of warning – get some cover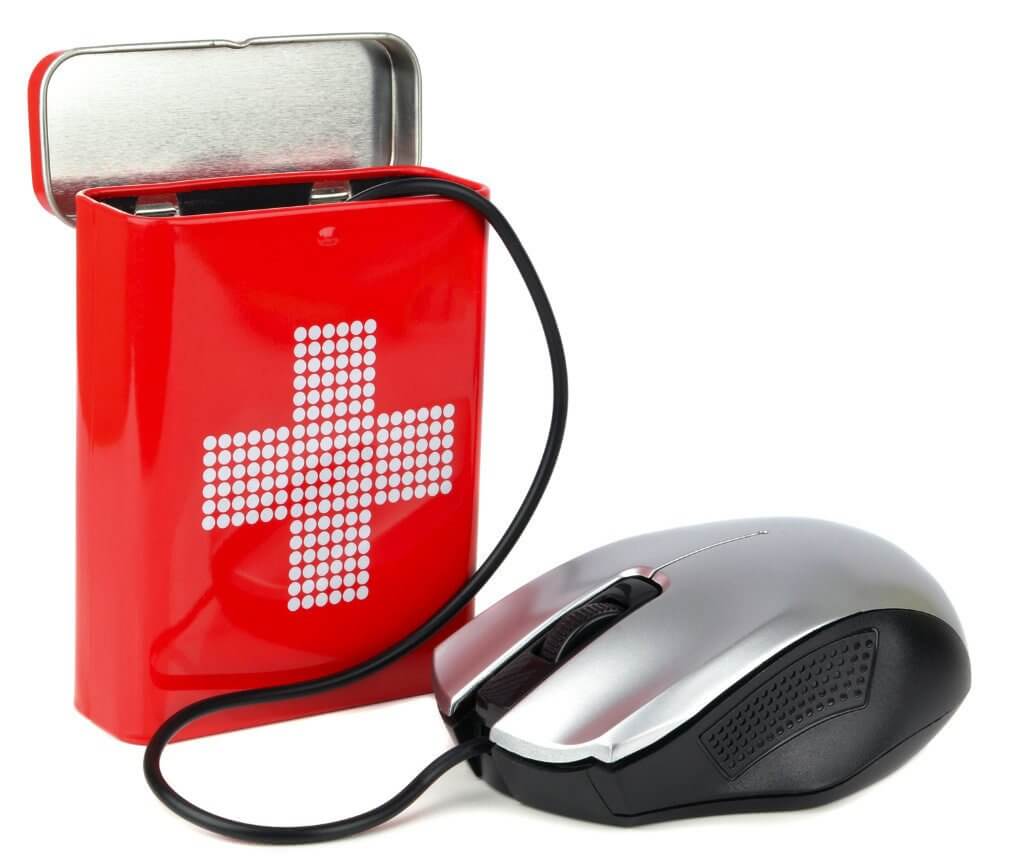 I know I don't need to say that nothing in life is free, but the same goes for free blog hosting. It's free to you, but often there are compromises to be made. It's up to you to decide if those compromises are worth it for your current situation.
You should expect the worst from free hosting, and more importantly, prepare for it.
---
Backup your site regularly and keep it updated and secure.
---
If you are doing more than tinkering, be prepared to move your blog elsewhere, quickly, because your host could suspend your account without notice, or simply stop trading, leaving you high and dry.
If you suspect there is the smallest possible chance that your site is going to attract higher traffic, waste no time switching to a paid option, or you could be in a position where your host has suspended your account.
Remember that if you want to be taken seriously by Google, your site needs to be SSL, i.e. HTTPS not HTTP. There is a free way to get that too.
All the free blog hosting sites I review here are for self-hosted Wordpress, apart from Wordpress.com, which is a service provided by WordPress.
As a newbie don't be put off by the added complication of having to install WordPress yourself. Most hosts, even free ones, have a nice tool to help you quickly and easily install WordPress without having to download it manually from wordpress.org.
Wordpress.com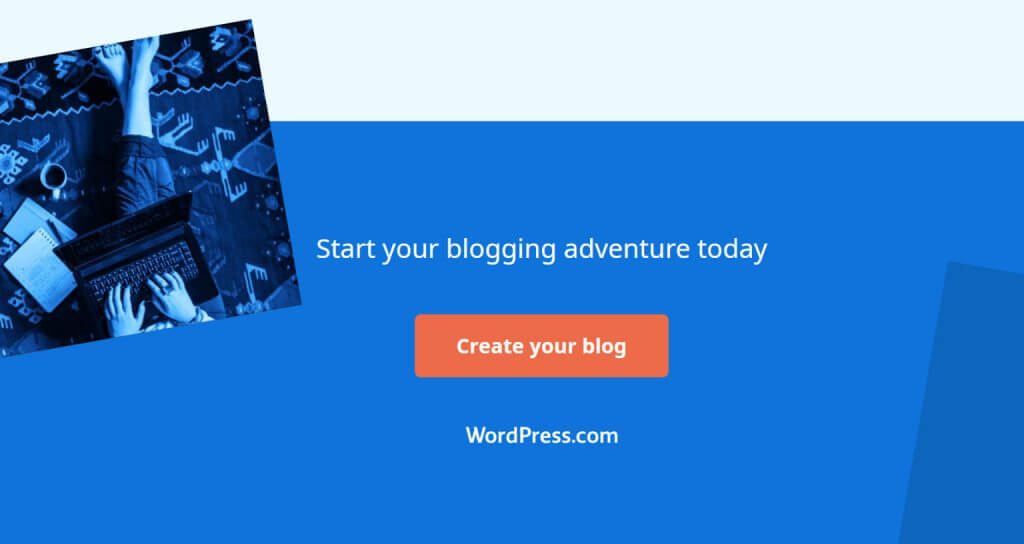 There are two versions of Wordpress, the self-hosted sort which you can download and install at the host of your choice, or WordPress.com where Wordpress hosts it for you. I will be reviewing the latter version. I have a whole post about the differences and which sort to choose here if you are confused – WordPress.org vs WordPress.com – Which Should I Choose?.
If I were beginning again in the blogging world, with zero experience of WordPress, I would start with Wordpress.com.
WordPress.com has a free tier, and it is very easy to have a free blog up and running in minutes, with a free theme. You can even use your own domain with a free account.
If all you want to do is create content, then the free account is all you need. The advantage of wordpress.com is that your little blog (to start with) can leverage the huge power of the WordPress.com servers along with their security protection and backups. If you are a newbie blogger, then this is a huge benefit.
I set up my own WordPress.com blog here: https://wpkind.wordpress.com/. It is a basic site, but you will notice how fast it loads.
The downsides of WordPress.com
With a free account, you cannot install plugins, apart from Jetpack. Jetpack is a plugin written by the WordPress creators, it has a number of modules, allowing you to do things like add a contact form and check for spam, amongst other things.
WordPress.com will place some ads at the top of your site, so be aware of that. Of course, you can upgrade to remove them which is obviously what Wordpress wants you to do.
Moving on from WordPress.com
When it comes to moving on, there is an export utility, which you can use to import content into another Wordpress site. If you need help, then opt for the paid transfer service, and one of their happiness engineers will 'happily' transfer all your lovely posts to your chosen self-hosted WordPress site.
Advertising on WordPress.com
With a free account, you can apply for WordPress.com's advertising program called Wordads. You must have your own domain, to apply and what they term as 'moderate to high' traffic.
To use other advertising programs like Google Adsense, you would need a paid business account. If you use affiliate links, you must be able to demonstrate that your focus is primarily on producing good content, and you can't have too many sponsored posts.
000webhost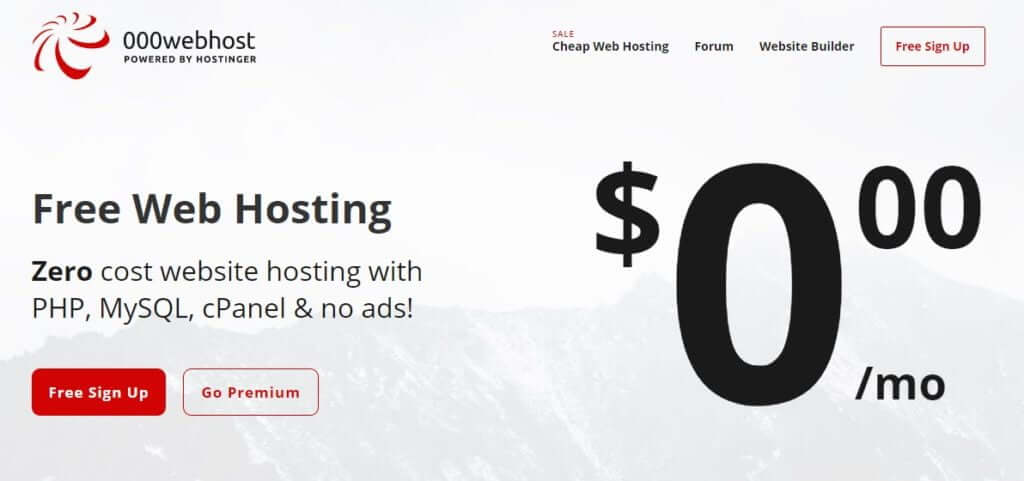 000webhost first came to my notice many years ago, and I set up my first blog there for free, so I know they are pretty established.
My first thoughts with 000webhost are that the free offering is quite limited. They give you only 1gb of disk space which is not very much. You would need to offload all your media to something like Amazon S3, which you can do quite easily with a plugin.
There is no email service so you wouldn't be able to have your own domain email address, such as [email protected]. If you wanted a personal domain for email you could use Google G Suite which isn't free.
There are no backups, but again using something like Updraft, you can very easily take your own and I would recommend that you do this anyway.
You get 10gb of bandwidth, which is quite enough for a moderately popular blog. You could get more out of your bandwidth if you offload your media to another provider like Amazon S3.
Putting it to the test
When I tried this host, I found it very straightforward to bring up a Wordpress site using the handy WordPress installation script.
Unlike blogs hosted at WordPress.com, this is a self-hosted Wordpress site, so you have the freedom to install whichever theme or plugin you desire, and display your own ads and affiliate links.
Here is the site I made. The page load time was decidedly slower than WordPress.com at 2.5 seconds for a 272k page. You will see that there is a small 000webhost link at the bottom.
000webhost is owned by www.hostinger.com. There is a big red button on the dashboard to transfer to them, but when clicked it seems to be asking me to open a separate account at Hostinger. I was hoping for some sort of wizard where I can click through to an upgraded site, so sadly it doesn't look as if upgrading is merely a click away.
With a plugin like WB Migrate or Updraft, you can quite easily re-host your site elsewhere, so there is always a way.
Conclusion
All the limitations on the free account can be overcome with other options, and if spreading the load of your site across other services is not an issue for you then I recommend this host. If not then the next tier is are fairly reasonable $7.99 per month. Currently, they have an offer on for $.80 per month, bargain!
All in all, this option could work provided you don't mind their small advert in the footer and 1GB is enough for you. If you wanted to get your hands dirty a bit, you could get over the 1GB restriction by offloading your media to Amazon S3. Email isn't provided, you would need to set up email with another provider such as Google G Suite.
Byet.host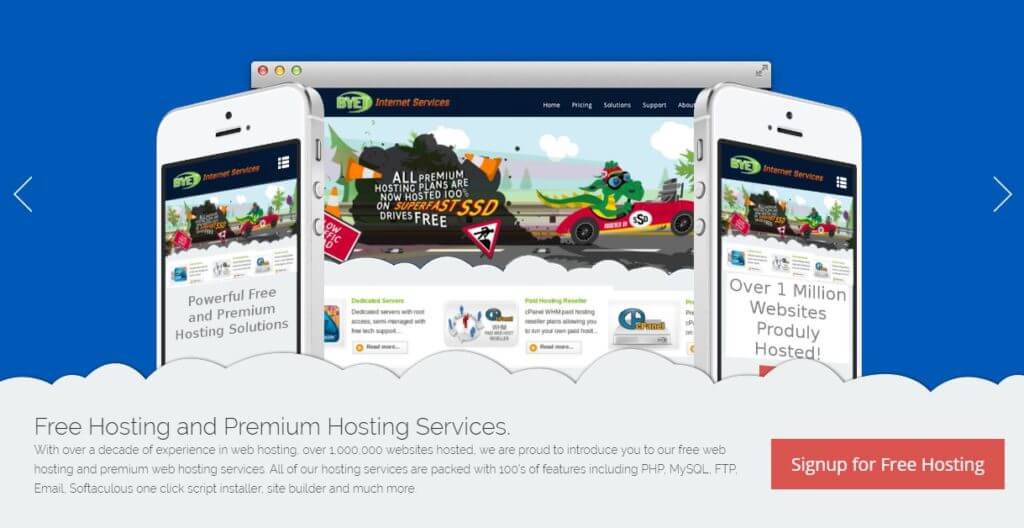 Byet.host claims to provide free, ad-free hosting, and this got my interest the most … unlimited disk space which sounds great!
Unfortunately, I wasn't able to register as I never received the confirmation email, despite adding their sending email address to my contacts, so I can't review this host yet! I tried again six months later, and still no email, so, unfortunately, we will have to write this one-off.
If you have an opinion on this host please comment below as I would love to know what you think of their freebie option.
Freehostingnoads

Freehostingnoads looks very good indeed, 1gb of disk space (we know we can work with that by using Amazon S3 for media), and 5gb of traffic is fairly decent for a small blog.
You get email and you get to use your own domain.
When you sign up, be careful where you click because the ads make it very confusing. The hope is that you will click on adverts, by mistake, which is misleading.
Make sure you click the big green 'join for free' button to start, and nothing else!
This time it was very easy to register and I got the confirmation mail immediately. The control panel is pretty busy, but on closer inspection, I could see the Zacky Installer which allows you to install Wordpress easily with a few clicks.
Here is the site I made http://wpkind.mywebcommunity.org/. I opted to use one of their subdomains but I could have used my own domain if I had wanted. It loads at a respectable speed for a non-cached page and overall I am pretty impressed.
Conclusion
When you outgrow the free blog hosting option, they are ready and waiting with many plans to choose from, claiming that you get high server speeds with the paid options.
The cheapest is a reasonable $47.88 per year. This plan has 'unlimited' disk space and traffic, but I would take that with a pinch of salt! All the plans are unlimited even the cheapest one so you might wonder why anyone would want to go for anything but the cheapest?!
Do take heed of my earlier advice, despite the claim, don't push your luck, upgrade or rehost when your site grows.
This option is a very real possibility, the only downside is the limited storage space of only 1gb. You even get an email service with this plan and your own domain to boot.
x10hosting.com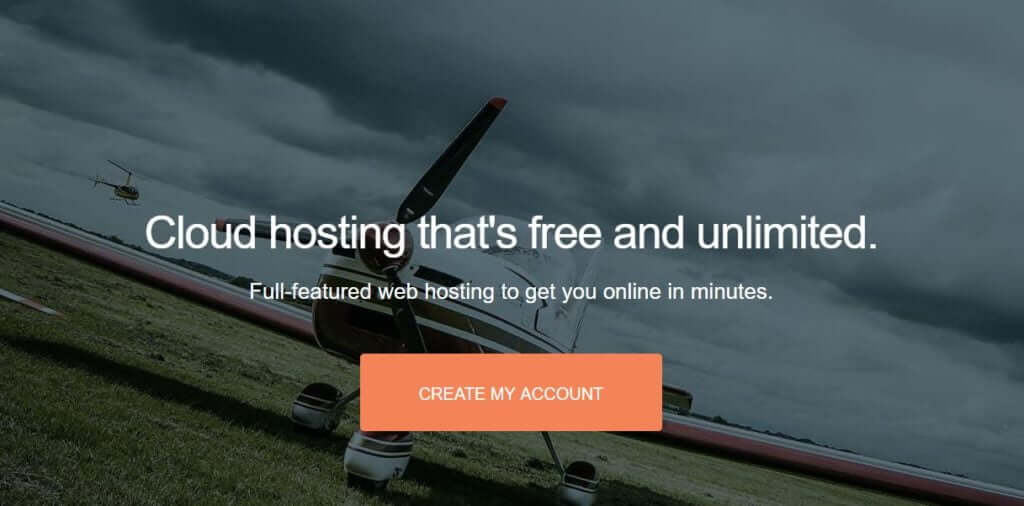 x10hosting.com has a great looking website, with no annoying and confusing adverts, just one clear button to click.
Sign up was quick and painless and I got my confirmation email quickly.
The company claims to have been in business since 2004 which is reassuring.
The big downside is that there was no automated way to install Wordpress. This is fine if you know what you are doing, but if you don't, you would have to pay a techie to do it for you, negating the free aspect. So I leave my review here for now …
biz.nf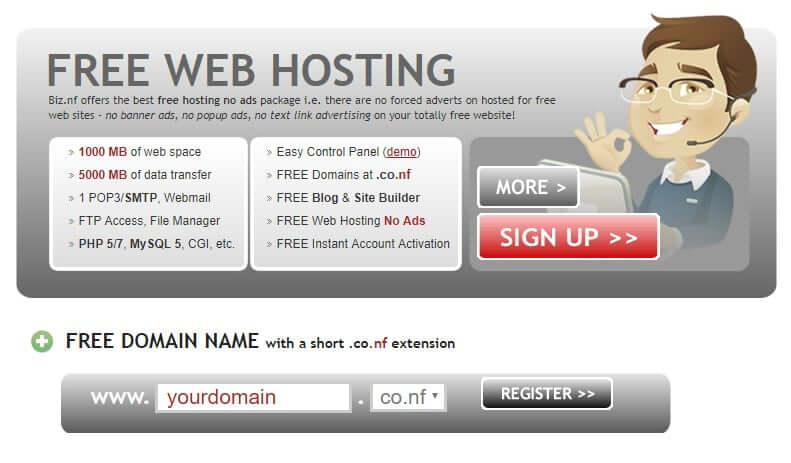 Biz.nf offers the same bandwidth and web space as Freehostingnoads, with one difference, you can't have your own domain name.
Not being able to host your own domain is probably a deal breaker for some, but at least you can still use this host to tinker with self-hosted WordPress so I wouldn't write it off completely.
I think this is possibly a white labelled option of Freehostingnoads or vice versa. I don't know for sure, so don't quote me on this.
The sign-up process was exactly the same as Freehostingnoads and the control panel was the same too. This is the site I made http://wpkind.co.nf/. Prices for the personal plan is $59.40 USD, so slightly more expensive than Freehostingnoads.
Conclusion
Due to not being able to use your own domain, I don't think this host is an option. But it is still a great place to use as a playground.
Final thoughts
To conclude, I have been pleasantly surprised by what is on offer for free blog hosting.
Wordpress.com is a great option for newbies because it takes away the technical barriers of setting up a Wordpress site and allows you to focus on writing. That is what is most important right?
If you are after more freedom to choose your own special theme or particular plugins, then you must have a self-hosted site and I think the best of the free bunch at this time is Freehostingnoads.
Freehostingnoads, gives you everything, email, your own domain, decent enough bandwidth and some disk space to start your off.
However, we must bear in mind reliability too.
I have had monitors set up on all the options I reviewed in this post at UptimeRobot for the last six months. For the last month, all hosts have had 100% uptime. However, the previous month all of them apart from WordPress.com had some downtime.
The lesson here is that free doesn't necessarily mean reliable, so that is something to keep in mind when going for free hosting.
Further reading
When you are ready to move on from free hosting I have a helpful guide here.
If you are not sure that WordPress is the best blogging platform for you, see my review of the best.
Some helpful posts to read after you install WordPress: