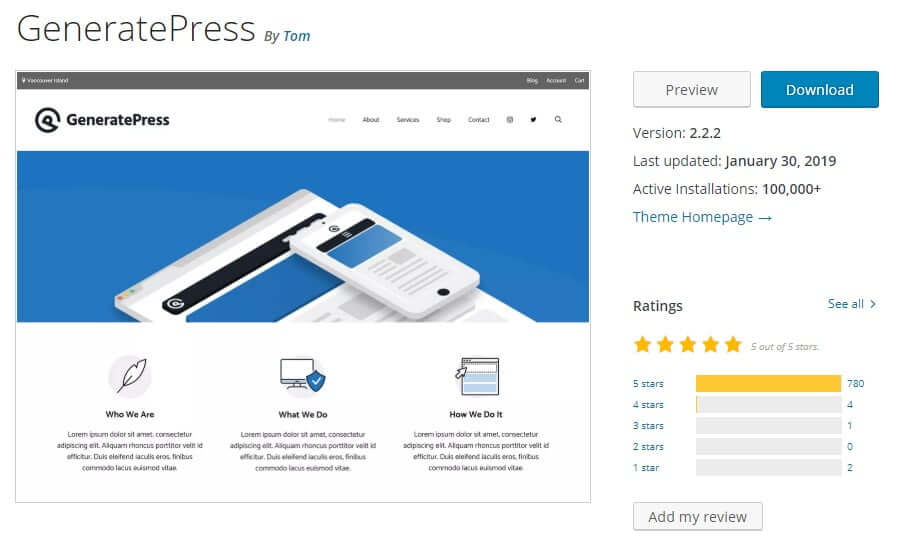 Today I have for you a GeneratePress review!
I love GeneratePress, and it is the theme I use on this site. I discovered the power of this theme during my research for this post – Three of the Best Free WordPress Themes for Blogs.
In the past, I would always hand-code from scratch using a bare-bones starter theme like Underscores. It was the only way, I thought, of achieving my exact requirements without adding bloat.
No more. GeneratePress is so lightweight, and there are so many customisations available, it isn't necessary to code at all. If you are not a coder, then this review post is for you, because you can achieve pretty much anything with this theme without technical know-how.
GeneratePress is free to download and install from wordpress.org. For more functionality, there is a premium plugin. My GeneratePress review covers both the free and premium versions.
Why GeneratePress is excellent for blogging sites
You can make any design with this theme, including a beautiful blog.
There is a tremendous amount of control, though you would need GeneratePress Premium for greater control of blog post and archive design.
Theme updates are done in the Customiser, so you to see the effect of design changes immediately.
Excellent documentation and support from the developer Tom. If you have questions, head over to the GeneratePress site and Tom will be happy to help you with anything (theme-related of course!).
Things I like most about GeneratePress
Responsive, it looks fabulous on all devices.
Great for SEO. Uses schema.org markup to improve the way search engines read and represent your page in search engine results.
No need for a child theme (but you can use one if you are a techie).
You can make just about any sort of design layout.
You can use Google fonts making for great theme design.
Compatible with popular plugins including Woocommerce, BuddyPress, bbPress, WPML and Yoast.
Works well with page builders including Elementor, Beaver Builder, Brizy and SiteOrigin.
Written by Tom ❤
Things I like (a little) less
Blog layout options are sparse in the free version. The premium version is necessary for more options.
Plain looking when you first install it, so can be a bit daunting at first.
No option for a header on the left and content on the right. You would need to add some CSS or use a GeneratePress premium template.
Under the hood
If you are not a techie, then please feel free to ignore this bit!
Based on Underscores, a starter theme written by WordPress, so it has an outstanding heritage.
Option to cache CSS in the database for better performance.
Loads of hooks and filters, making it great for developers.
The code is beautiful and lean. If you are a coder, then you won't have any trouble finding your way around.
CSS is extremely small at only 25K. Since I moved my web hosting to a Kualo LiteSpeed server, the CSS compresses to only 5.4Kb.
No JS scripts needed unless you select an option that requires it, such as smooth scrolling and the back-to-top button.
No jQuery library needed.
Thumbnail sizes for posts and archives generate on the fly, so WordPress doesn't have to create them every time you upload an image, saving on space.
GeneratePress review (free version)
When you first activate GeneratePress, the default look is plain, which could seem a bit discouraging to many people. It would be nice to see something more interesting at this point.
On the other hand, it is a blank canvas on which to unleash your creativity!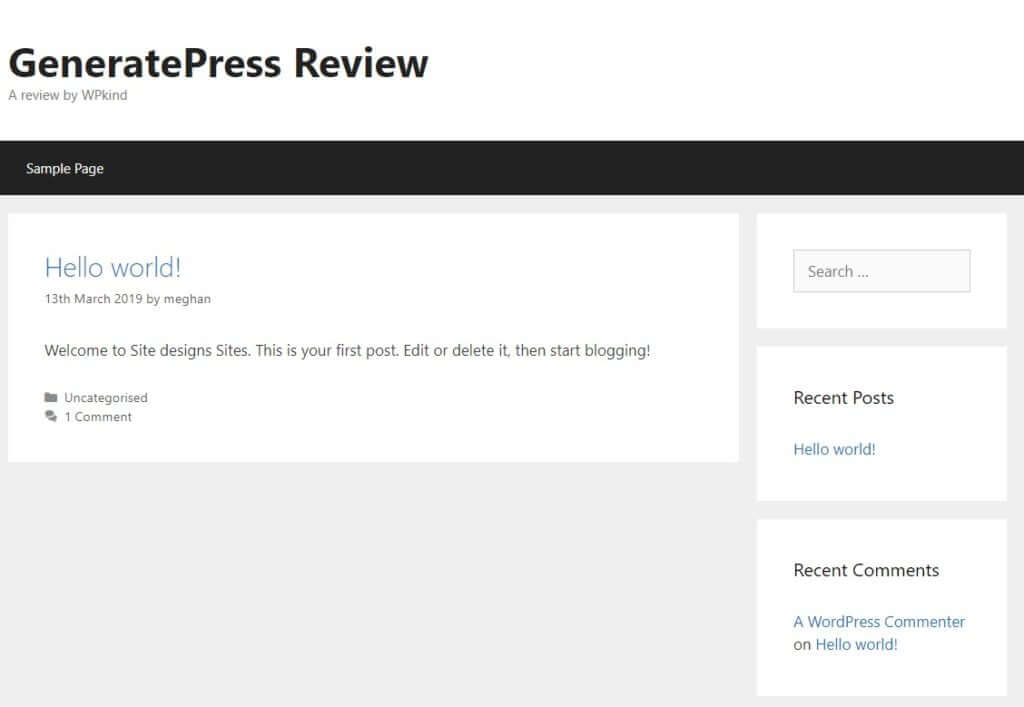 Clicking Customise will bring up the options available for changing the look of the theme.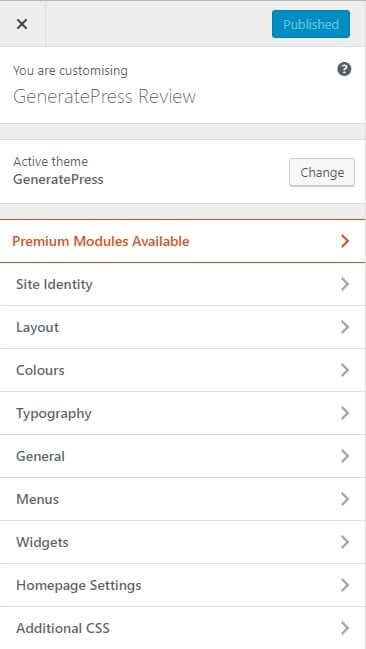 Let's look more closely at what the customiser has to offer.
Layout options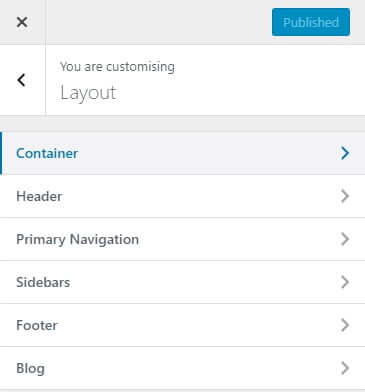 Here we can change the width of the content and set the elements of the site to appear in separate containers (boxes) or one container using the content layout option.
The header options come with several presets. You can put the navigation on the right, left or centred, and above or below the logo and tagline. You can make the header full width or contained to the same width that you set for the content in the Container options.
There are separate options for the navigation bar allowing you to make it full width, contained, or centred. You can add a search icon to the navigation bar, which is a nice feature.
You can change the content and sidebar arrangement for pages. There is a separate option to change the sidebar layout for your blog and single posts which is very useful if you want a different sidebar layout for posts.
The footer options allow you to change the number of widgets that show in columns in the footer. If you set the number to zero, then no widgets show. You can also turn on a back-to-top icon which is useful when you have long content.
The blog options are minimal. All you can do is change the blog archive to show full content or the excerpt. For many more options, you would need an upgrade to GeneratePress Premium.
Colours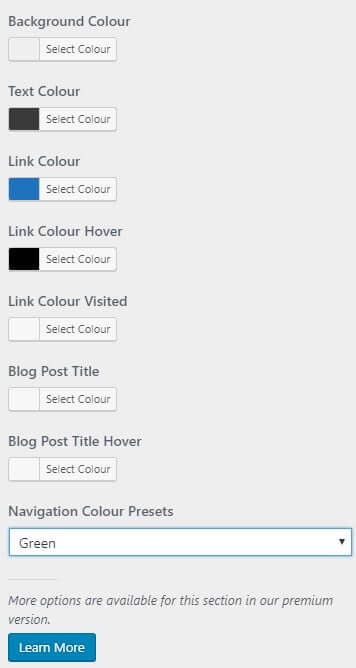 Here you can set up your colour scheme for text, links and post titles. You can also select from a preset colour scheme.
Typography
The typography settings are very extensive. You can select from a large list of fonts, including Google fonts. If your chosen font supports it, you can also pick the font weights that your theme will be using. Remember that the more weights you choose here, the more fonts your site has to load up, so it is brilliant that this theme lets you choose only the ones you need.
You can further select different font settings for each heading type or chose to inherit from the main font. You can adjust settings for tablets and mobiles for better responsiveness.
Additional CSS
If you are comfortable with CSS, then use this option to add your own CSS customisations. You might use this option, for example, for setting the background colour on a particular sidebar widget to highlight it.
GeneratePress review (premium version)
GeneratePress Premium currently costs only $49.95 with a 40% renewal discount. You can install it on unlimited websites with one license. It is amazing value.
The premium version is a plugin rather than a theme replacement, and it is modular, so you only need to activate the bits that you are going to be using. When you activate Colors, Typography, and Blog, those sections in the customiser are extended with extra options. The Spacing module adds more padding, height and width options for all elements in your site.
GeneratePress Premium allows you to export all your theme's settings and save them to your computer, which is useful if you want to test something on another site first.
Here are the modules that become available when you activate the premium plugin.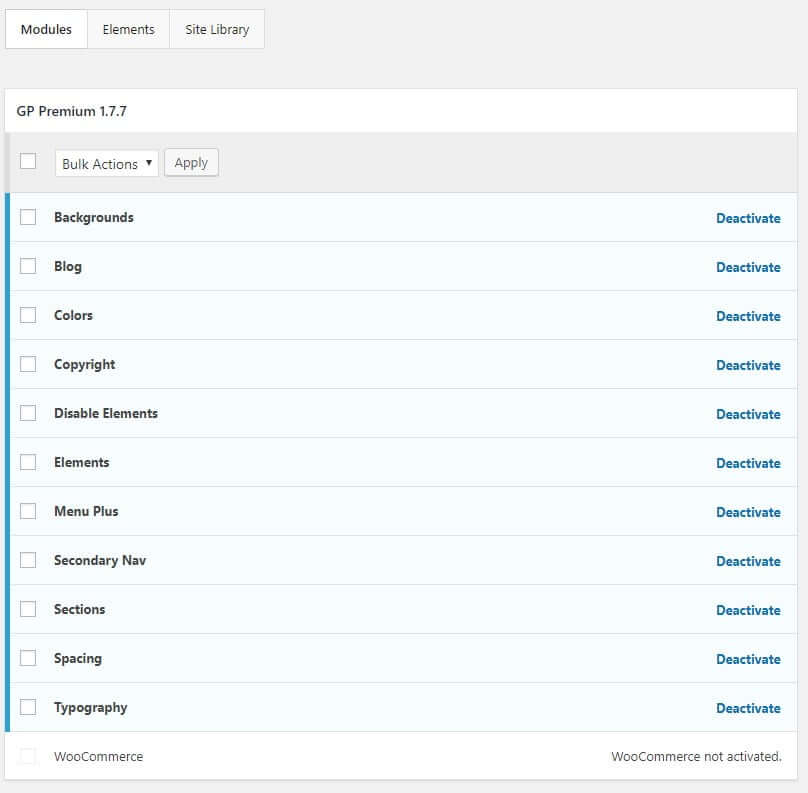 Let's have a closer look at what it includes.
Blog module
The blog module adds a considerable amount of flexibility.
You can choose a layout for posts and archives, placing the featured image above or below the title, changing the alignment and the image size.
If you select an image size that isn't already set-up in the WordPress media settings, GeneratePress will resize the image for you on the fly, which I think is a great feature. It means that WordPress does not have to create these media sizes for every single asset you upload to WordPress, which saves on space immensely.
You can choose the elements to include, i.e. whether to include post date, author, etc..
You can set your archive to scroll infinitely, and if you choose to display in columns, there is also an option for a masonry layout.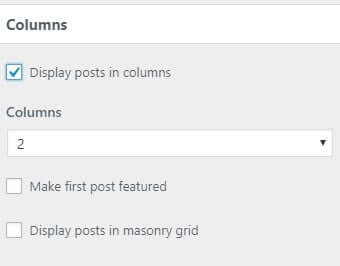 Site Library
GeneratePress Premium comes with a library of 33 (at last count) site templates including content and images that you can import into your site, and it is a great way to kick start your site design.
Even if you don't find the exact design you are after, if you choose something similar, you can make some more tweaks using the customiser to make it your own.
Some of the templates require Beaver Builder or Elementor page builders.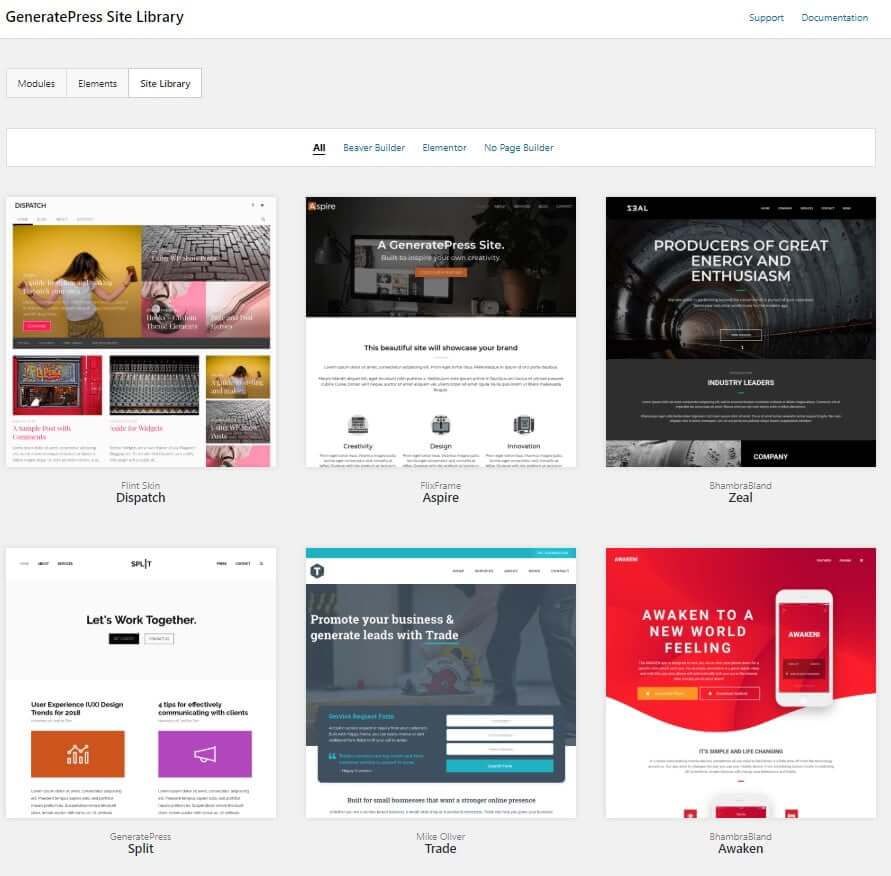 When you click on a template, there is a description and a list of supporting plugins for optional installation, including which if any page builder plugins will install. Additionally, you can choose to import the entire site content, including text and images, so you don't end up with an empty theme.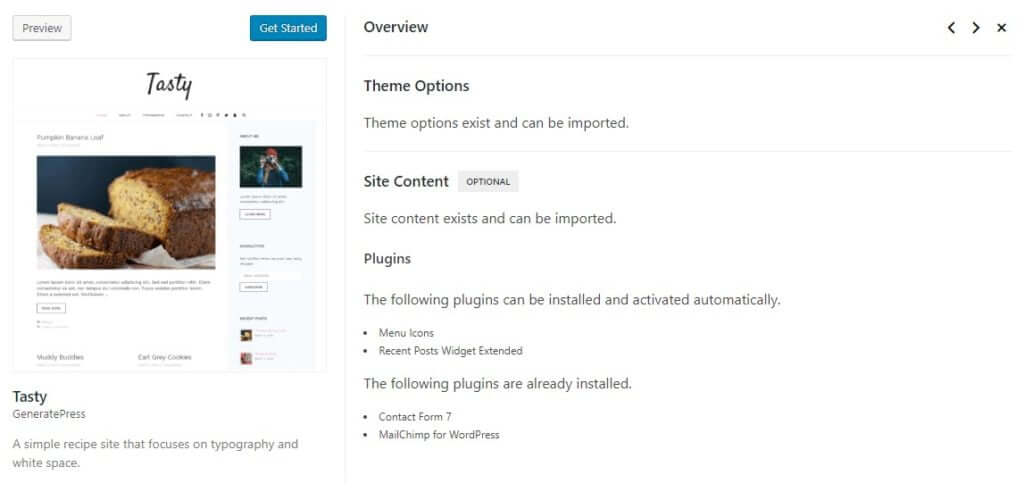 Elements
GeneratePress Premium comes with a module called Elements. On the surface, it doesn't sound like much, but it is very powerful.
Using elements, you can:
create page heroes that can merge with your page header,
add code to a hook for extra fine-tuning,
set the layout for posts and pages.
You can also set where all these elements will apply. For example, you can show a page hero only on the about page, and a merged header only on the home page.
Here is a page hero that I set-up to appear on the sample page.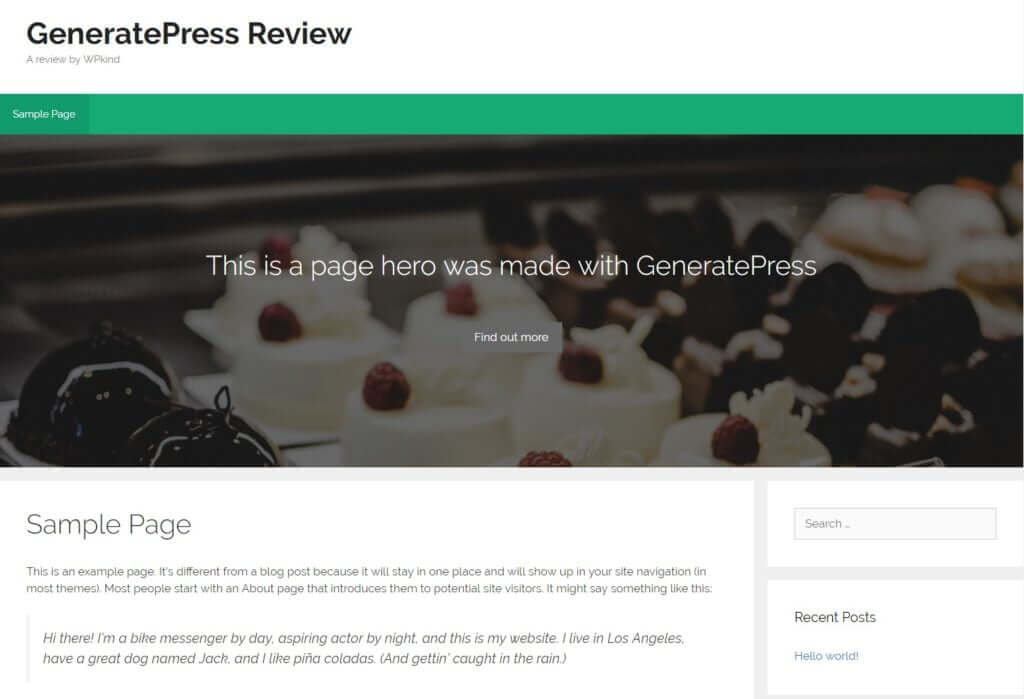 When you merge the page hero with the header, you can achieve something like the example below, where the header is overlaid instead of above the hero which is a very trendy design at the moment!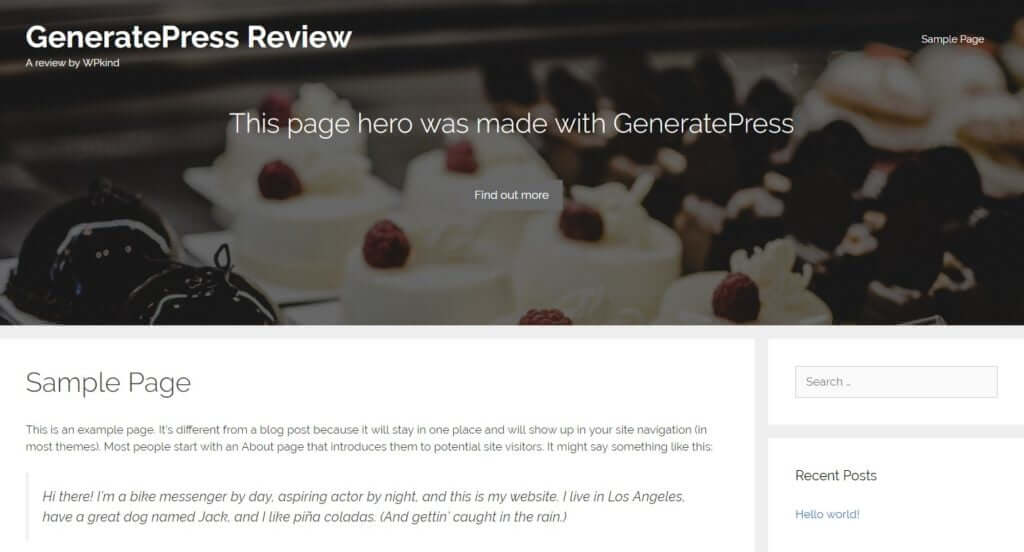 The hooks system allows you to add code, that you would typically have had to add in a child-theme. For example, adding header scripts for Google Analytics or HotJar.
The elements modules also allow you to set up different layouts for different parts of your site. For example, set all posts to have a right-hand sidebar, or disable certain elements such as the title on your landing pages, and set the container width. You can also do all these things for individual pages in the post editor.
Final thoughts
In this GeneratePress review I have taken you through the features it has to offer in both the free and premium version.
Let's recap on the key takeaways:
GeneratePress is an extremely flexible theme. You can customise it to just about any design; this means that it is also future proof. I don't think you would ever need to use a different theme even when it comes to the point when you need to redesign your site, because you can head over to the customiser for that.
GeneratePress is supremely lightweight. A smaller site means faster load times, which is good for everyone, especially Google.
GeneratePress is compatible with WooCommerce, so should you need to add a shop in the future, again you would not need to swap out your theme.
GeneratePress is under constant active development, so I believe it is safe to invest your time/money customising it to your exact requirements. It is super lightweight and SEO friendly, and it is the theme that I use on this site.