Have you ever needed to copy a post and couldn't find a way? There is actually no way to do it fully in native WordPress. You would think this basic need would be baked into core WordPress, wouldn't you?
There are two ways I would like to share with you today.
The first way involves using a plugin. What you will get at the end is a complete copy of the post, including any extra information you may have added to the post (otherwise called metadata). So, for example, if you have added SEO data using the Rank Math plugin or Yoast plugin, that should also be copied.
If you don't want extra information copied over, only the content, then there is a second way that you can achieve within the Gutenberg editor itself. This method does not involve having to install (yet) another plugin.
So let's get started!
Video – How To Copy A WordPress Blog Post
No time to read? Watch the short video instead.
Method 1 – Using a plugin
This method involves using a plugin called Yoast Duplicate Post. As I mentioned earlier, when you copy a post using this plugin, everything gets copied including the metadata.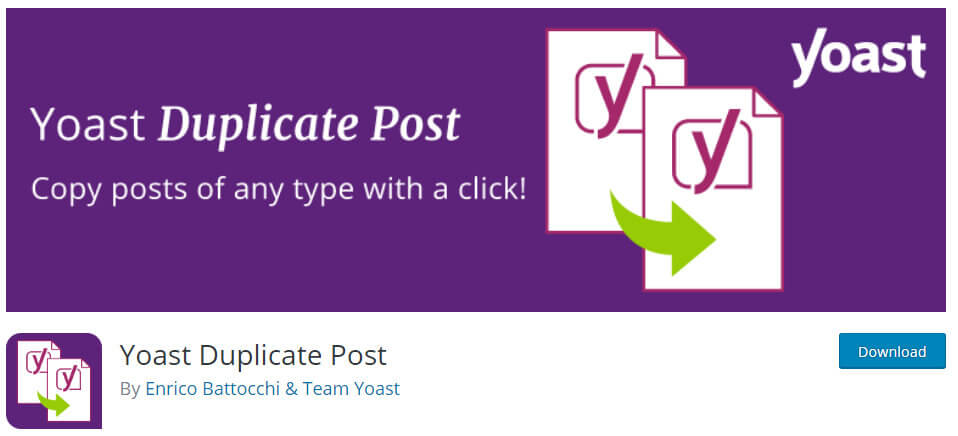 Pop over to Plugins->Add New
Search for yoast duplicate post, it should come up at the top
Click Install then Activate
Now you have the plugin installed, all you need to do now is pop over to your Posts tab and look for the post you want to be copied.
When you hover your mouse over the post you should see a clone link.

A copy of the post will then appear as a draft.
If you want to clone and immediately start editing, click the New Draft link instead. The effect will be the same as clone.
If you want to edit the post and republish it now or later as the same post, click Rewrite & Republish. This option is useful if you want to make a bigger edit, or you want to schedule a new version of the same post at a later date.
This method also works with Pages too.
Method 2 – Using Gutenberg
This method does not involve using a plugin because you can do it right in the Gutenberg block editor of WordPress.
Only the content will be copied. The title and any metadata you have added will not be copied.
Open the post you wish to copy.
Open the options panel by clicking the three dots that appear on the top-right of the editor.
Click Copy all content. The content of your post content is now in your clipboard.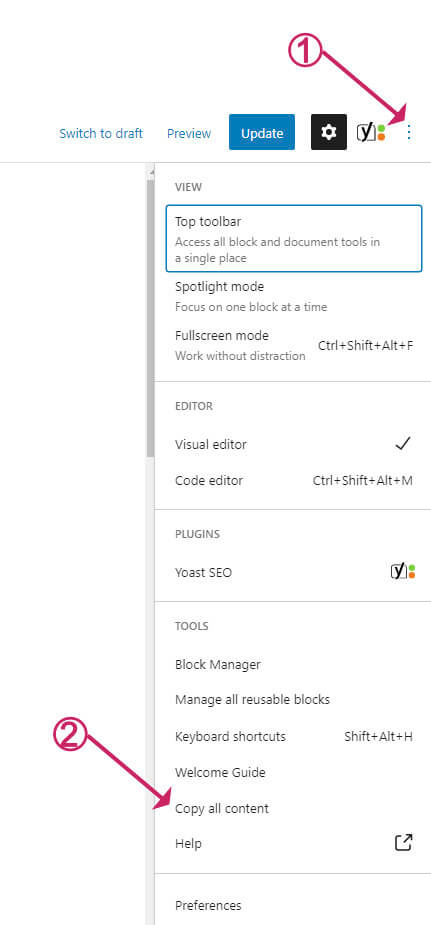 Next, open your new post.
Hit CTRL+V or CMD+V to paste the content into your new post.