For those who are new to the Gutenberg block editor, you may not know how easy it is to embed a YouTube video in your posts.
I thoroughly recommending adding videos if you can because Google absolutely loves them! And so do people of course. I can't tell you how much I have learned simply from watching Youtube videos, and I am sure you have too.
Here is my straightforward guide to adding YouTube videos with ease.
Step 1 – Copy the video URL from YouTube
Go to YouTube and find the video that you wish to embed in your post.
Copy the URL.
Step 2 – Add a new Youtube block
As is usual in WordPress there is more than one way of adding new blocks.
Method 1 – click the icon
Click on the plus icon that appears when you hover over an existing block or at the end of the content.
Type youtube in the search box and then click youtube when it appears below.
Method 2 – use the slash shortcut
Press return at the end of your content to start a new block
Type /youtube and press return
Step 3 – Paste the Youtube video URL
When you see the screen below, paste in the URL that you copied from Youtube.

Click the Embed button
The video will then appear in your post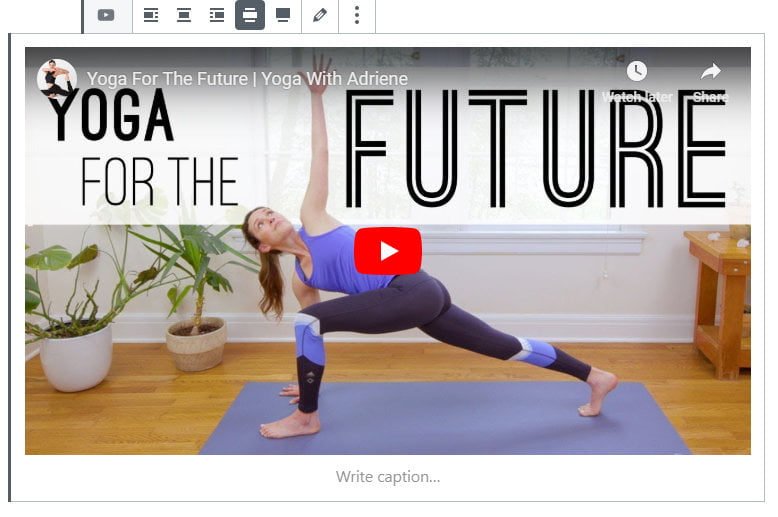 To change the video simply edit the URL by clicking the pencil icon in the toolbar, then paste in a different URL and click Embed again.
There a few things you can change in the block settings, but not much!
Step 4 – Optional tweaks
To edit the block settings:
Click on the new video block you have made
Click on the Block tag on the right-hand side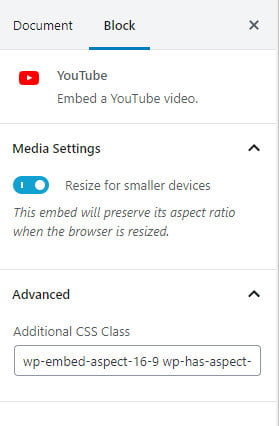 I recommend that you keep Resize for smaller devices checked as this will ensure that the video keeps its proportions when viewed on mobile.
You can also edit the CSS classes if you want to add some special styling.
Wrapping up
This has been a short and simple tutorial for adding YouTube videos to your posts using the new Gutenberg editor.
Enhancing your post with video is a great way to improve both your search ranking and to engage your audience.
If you need more control of video options, I recommend using the SiteOrigin Widgets Bundle. It has a block enabled Video Player widget which gives you more options, such as adding a cover image.