Your blog post might have the best content and the best imagery. You might be the most expert blogger in your field. But, if you don't have a good strong blog post title, people just won't be attracted to read what you have to say, and that is the painful truth.
In my own niche (Blogging with WordPress) I have found to my cost how important titles are.
This is the post I wish I could have read at the beginning of my blogging journey, and I would be a lot further ahead now if I had!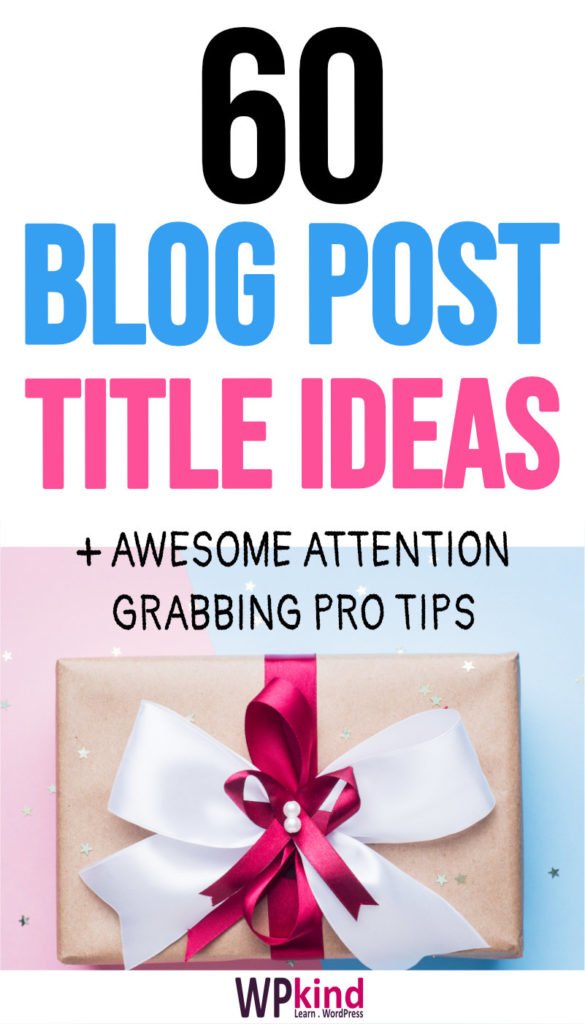 Your blog post title should address a problem, not the solution
I used to have a post titled 'How to install Google Analytics on your blog'.
I believe the only people who read that post were those that a) already understood what Google Analytics is, and b), already knew the benefits. After putting myself in the shoes of beginner bloggers, I realise that the title must have sounded like an irrelevant technical complication!
I later changed the title to 'How to know who is reading your blog', and bam, readers arrived, because they understood it to be a problem they wanted solving. I then proceeded to answer that question in my blog post, explaining the solution, which of course is the use of Google Analytics.
If you know your readers well, you should be tuned in to what their struggles are and how you can help them with your bountiful knowledge.
But what if you don't know your readers very well?
Here are a few ideas to get to know them better.
Email a small survey, or add one to your website
Start a Facebook group
Ask people to reply to your newsletter with their biggest struggles
Have a competition. Get people to email you or take your survey in return for a freebie
A post title should be attention-grabbing
If you are addressing the problem rather than the solution in your title, you are already halfway towards achieving an attention-grabbing headline.
Here are five tips to make your title even more click-worthy.
1. Keep it short and snappy
Your title should be concise and unambiguous. Google will truncate long titles so it's really not worth bother writing longer ones.
Use the Yoast plugin to help you here. If your title is too long Yoast will tell you in the analysis results.
2. Include keywords
There are many places where you can include keywords on your blog post, and a title is a perfect place to put them. Make sure you mention the keywords you are going for in your title.
Related reading: 21 Things To Do Before You Publish Your Blog Post
3. Don't mislead
It's not worth misleading your reader for the sake of a click. They will most likely click away quickly and might never return.
4. Where it makes sense, put some power words in your title
Here is a fantastic list of power words.
I use that list all the time to help me create click-worthy post titles.
Here's an example of how powerful words can make a difference:
7 ways to get your baby to sleep (not bad)
7 clever ways to get your baby to sleep (better!)
5. Frame your post in one of these ways
How to solve
The best X
Top X tips
The worst X
X Mistakes
X and X Compared
X Reasons
X Ways
I'm sure you have done this yourself, I certainly have; many people will start a search with 'how to …' so it's very worthwhile adding that to your title if you can.
People love a list, plus Google likes them too! X reasons/ways/mistakes etc. makes for a great headline all round.
Have you ever noticed this type of result in a Google search?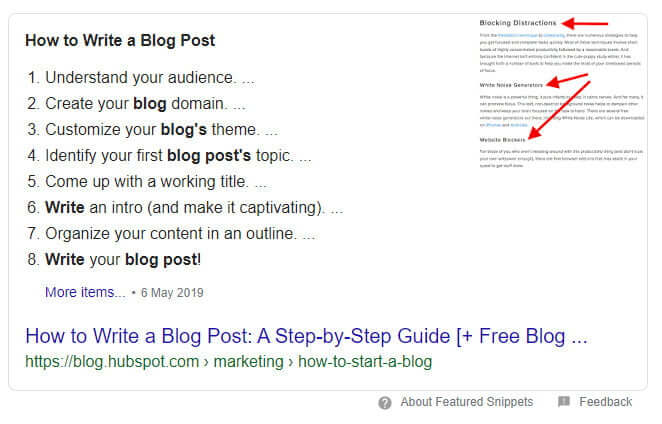 The author of this post has listed out each tip under a heading and Google picked out each one and added it to the search result.
Find out what type of posts resonate
Not sure what type of posts resonate with your audience? Now is the time to root through your Pinterest and Google analytics.
If you have a business account with Pinterest (and if not I recommend you convert your account to a business one) you will find the analytics menu on the top left (desktop view only).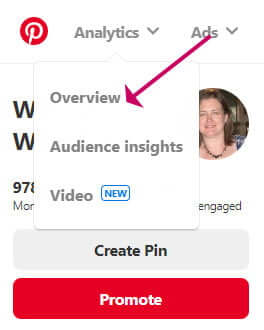 Head down the page to the Top Pins section then select Link Clicks from the drop-down list.
You will then get a list of all pins (yours and others) that attracted the most clicks.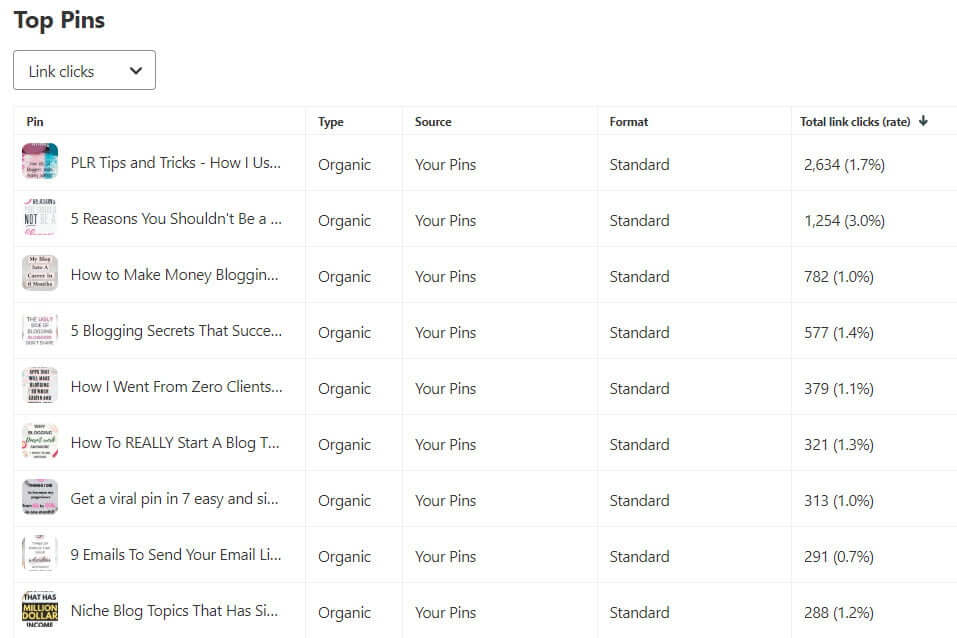 From this list, I can see that 'How to .. ' posts and list type posts do very well for my audience, so I will definitely be writing more of those.
Next, pop over to Google Analytics, and bring up a list of your most popular posts.
You could also check the most shared posts on your blog and those with the most comments too.
If you don't have Google Analytics yet, see my post on how to set it up on your blog.
Related reading: How To Know Who Is Reading Your WordPress Blog
60+ powerful blog post titles
Here are 60 examples of post titles that you could use in any blog niche. Simply fill in the blanks and add numbers where necessary.
What/why/how/guides
How to solve …
How to find …
How to get more …
How to use …
How to create …
How to seriously …
How to quickly …
How to boost …
How to skyrocket …
How to realise …
How to save …
How to tell if …
How to get rid of …
How to know if …
How to jump-start …
How I …
How to kick start …
How (not) to become …

Ultimate guide to …

Everything you need to …
Cheatsheet/checklist for
What no one tells you about ..
Why you should stop …
Why you should (not) …
What to do with ..
Lists
X reasons to
X ways to …
X mistakes …
X incredible …
X proven …
X immediate …
X questions …
X secrets …
X foolproof …
X ridiculously …
X habits of …
X best …
X amazing …
X facts …
X types of …
X Complete list of …
X Ultimate list of …
X must-haves …
X essential …
X quick tips to …
X lessons …
X known …
X little known …
Tips
X creative ways to ..
X essential tips for …
X quick tips for …
X surprising tips …
X foolproof tips for …
X insane ways to …
X unique ways to …
X things you should never do to …
X beautiful …
X lessons
X reasons why …
X rules …
Many of these titles already incorporate power words, but for those that don't, add some in, e.g.
10 ways to conquer a mid-afternoon energy slump
5 shocking reasons why your diet plan isn't working
8 weird and wonderful solutions for keeping a clean house